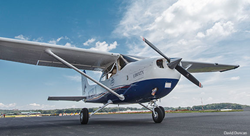 Lynchburg, Va. (PRWEB) August 29, 2014
Textron Aviation Inc., a Textron, Inc. company, delivered the 10,000th single-engine aircraft from its Independence, Kan., facility to the Liberty University School of Aeronautics on Thursday, Aug. 28. The milestone aircraft, a Cessna Skyhawk, along with two other Skyhawks, were added to Liberty's growing flight training fleet.
The Independence team and Liberty representatives marked the occasion with a delivery ceremony of the three Cessna Skyhawks, one of which features a custom decal displaying its title as the 10,000th Independence-delivered single-engine aircraft.
"The Skyhawk is the mainstay to the quality flight training we provide to America's next generation of professional pilots," said Ret. U.S. Air Force Brig. Gen. Dave Young, assistant provost for aeronautics education at Liberty. "Through the years, we have developed a great relationship with the team here in Independence and continue to choose Textron Aviation products because we trust the craftsmanship that goes into each aircraft."
The Cessna Skyhawk has become the global standard training platform. There are more Cessna Skyhawks in the world than any other type of aircraft, with more than 48,000 having been designed, manufactured, and delivered since 1955, first from Wichita, and now also from the facility in Independence.
Since its first single engine delivery in June 1996, Textron Aviation's Independence facility has produced the majority of Cessna single-engine piston products, as well as two types of Citation jets.
"Reaching this milestone is a testament to the quality of the workforce at our Independence facility, which continues to be a cornerstone of the Textron Aviation manufacturing footprint," said Lily English, general manager of the Independence facility.
The Liberty University School of Aeronautics has grown from four students to the largest faith-based university aviation program in the country. The school offers a variety of online and residential programs, including a bachelor's degree with concentrations in military aviation, missionary aviation, commercial/corporate aviation, and unmanned aircraft systems. The School of Aeronautics works closely with Freedom Aviation, the fixed-based operator located at the Lynchburg airport and owned by Liberty University.
About Textron Aviation Inc.
Textron Aviation Inc. is the leading general aviation authority and home to the iconic Beechcraft, Cessna, and Hawker brands, which account for more than half of all general aviation aircraft flying. The Textron Aviation companies include Cessna Aircraft Company and Beechcraft Corporation, bringing together decades of unmatched experience in designing, building, and supporting airplanes. It provides the most versatile and comprehensive general aviation product portfolio in the world through five principal lines of business: business jets, general aviation, and special mission turboprop aircraft, high performance piston aircraft, military trainer, and defense aircraft, and a complete global customer service organization. Its broad range of products include such best-selling aircraft as Citation and Hawker business jets, King Air and Caravan turboprops and T-6 military trainer aircraft, all of which are backed by the industry's largest global service network. For more information, visit textronaviation.com.
About Textron Inc.
Textron Inc. is a multi-industry company that leverages its global network of aircraft, defense, industrial, and finance businesses to provide customers with innovative solutions and services. Textron is known around the world for its powerful brands such as Bell Helicopter, Cessna, Beechcraft, Hawker, Jacobsen, Kautex, Lycoming, E-Z-GO, Greenlee, and Textron Systems. For more information, visit http://www.textron.com.
About Liberty University
Liberty University, founded in 1971, is the largest private, nonprofit university in the nation, the largest university in Virginia, and the largest Christian university in the world. Located near the Blue Ridge Mountains on more than 7,000 acres in Lynchburg, Va., Liberty offers more than 450 unique programs of study from the associate to the doctoral level. More than 200 programs are offered online. Liberty's mission is to train Champions for Christ with the values, knowledge, and skills essential for impacting tomorrow's world.