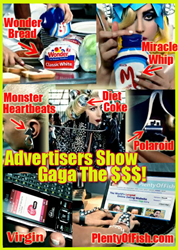 Hollywood, CA (PRWEB) August 29, 2014
Hollywood product placement agency All Access Placement revealed Thursday that they are now working with producers and studios as early as the development phase in order to get their client's products placed in Hollywood blockbusters.
In September of 1981, director Steven Spielberg had a problem with a scene he was shooting for his upcoming movie, E.T. The screenplay called for Elliott, the little boy in the film, to get E.T. out of hiding by leaving a trail of M&Ms. But the Mars candy company, which makes M&Ms, wasn't interested in a product placement deal, especially for a movie with such an ugly alien as its main character. So director Spielberg's production company turned to Hershey, which had been looking for a way to boost the disappointing sales of its new bite-sized peanut butter candy. "I thought [E.T.] was a strange creature, but I told all the executives here, 'You're gonna love him,'" Jack Dowd, Hershey's then-vice president for new business development, told the Washington Post . After E.T was released in 1982, sales of Reese's Pieces shot up 65 percent.
E.T. wasn't the first time product placement was used in a feature film, however it has been recognized as the most successful case of product placement ever. That's because Reese's Pieces wasn't just shown in the film but served as an integral part of the plot.
Working a product seamlessly into a film is what All Access Placement specializes in. With an in house creative team, All Access Placement works directly with producers and directors to achieve what every advertising company strives for, brand presence. AAP is the first product placement agency that actually gets involved with studios during the development phase of a motion picture.
AAP is a full service non traditional product placement agency with a direct focus on strategic partnerships and product placement within the motion picture and television industry. AAP represents both corporations, producers and studios in house, which allows brands to personally work with the AAP creative team to build integrated advertising campaigns far superior to any other opportunity available in today's market.
All Access Placement was founded by a team of former studio execs that teamed up with a Coca Cola vice president during the Atlanta Summer Olympics. Together the team realized the need for an agency that could bridge the gap between corporations and studios.
All Access Placement is based in Hollywood, California with offices in New York and London. Unlike their talent agency counterparts, AAP has an open door policy and welcomes unsolicited potential clients. All Access Placement can be contacted at (866) 701-9605 or at http://allaccessplacement.com/