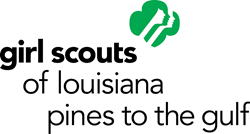 (PRWEB) August 31, 2014
Girl Scouts of Louisiana – Pines to the Gulf is making its summer push for girls and adult volunteers to join Girl Scouts, the country's preeminent leadership development organization for girls. With families already thinking about how to allocate their free time during the coming school year, Girl Scouts of the USA (GSUSA) has released new data showing the organization's benefits for both girls and volunteers.
Results of a summer 2014 pulse poll conducted with over 3,500 volunteers and parents of Girl Scouts in the K−5 age range show positive effects on members of all ages. Ninety-seven percent of parents agree that Girl Scouts has been a positive activity for their daughter, that she has had fun and exciting new experiences (95 percent), and that she has learned or tried something new (96 percent). In addition, 94 percent of parents say that because of Girl Scouts their daughter feels special, has more friends (95 percent), and is happier (89 percent).
The data shows it is not just girls who benefit: 94 percent of volunteers have made new friends, 88 percent believe their life is better because they volunteer with Girl Scouts, and two-thirds believe their volunteer experience has helped them professionally. Ninety-five percent of Girl Scout volunteers are happy knowing they are making girls' lives better. Overall, parents consider Girl Scouts one of the most beneficial extracurricular activities for their daughter.
Girl Scouts is open to all girls from kindergarten through grade 12. The more adults step forward to volunteer, the more girls will get the chance to be a Girl Scout. Adults over age 18 may become volunteers; both girls and adults volunteers can join at any time of the year. Girl Scout volunteers come from all walks of life; they are men, women, young professionals, retirees, college students, and more. To join or volunteer, please visit: http://www.girlscouts.org/join.
About Girl Scouts of Louisiana – Pines to the Gulf
Girl Scouts of Louisiana – Pines to the Gulf serves nearly 8,000 girl members and 3,000 adult volunteers in 42 parishes in Louisiana, with offices in Lafayette, Shreveport, Lake Charles, Alexandria and Monroe. Girl Scouting builds girls of courage, confidence, and character, who make the world a better place. Girl Scouts accepts all girls grades K-12 who accept the Girl Scout Promise and the Girl Scout Law. Membership is $15 annually, but no girl will be denied membership because of inability to pay. For more information on how to join, volunteer or donate please visit http://www.gslpg.org or call 1.800.960.2093