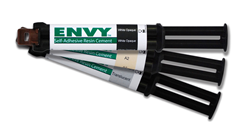 Love the easy clean-up. Great hold to zirconia, I will use this over glass ionomer. - Dr. Scott Graham
South Hackensack, NJ (PRWEB) February 21, 2017
Essential Dental Systems (EDS) announces the launch of Envy Resin Cement.
Envy provides the newest advancement in adhesive technology. This truly multi-surface cement even solves the problem of adhesion to zirconia. Envy is a dentist's answer for a simple, time-saving, cost-effective, one step solution. Envy's chemistry provides tack curing for easy clean up and ensures virtually no post-op sensitivity.
To meet a dentist's various clinical needs, Envy is available in translucent, white and A2. Envy is available immediately for purchase on the EDS website, simply choose one of the numerous US distribution companies. The distribution company will bill and EDS will ship your order.
For more info and special offers visit http://www.edsdental.com/envy