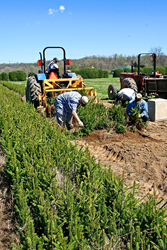 Charleston, West Virginia (PRWEB) August 29, 2014
West Virginia Division of Forestry officials announced that Clements State Tree Nursery will begin taking orders Tuesday, Sept. 2, 2014, for the 2014-2015 planting season. Clements Nursery is the state's only forest tree nursery, specializing in bare-root seedlings. These seedlings include both native trees and others genetically suitable for planting in West Virginia and neighboring states. Customers can order seedlings for planting in either fall 2014 or spring 2015. The online storefront, http://www.wvcommerce.org/ClementsNursery, allows customers to shop 24 hours a day, seven days a week. Deliveries start the week of Thanksgiving.
Among this year's inventory are perennial favorites like American chestnut, redbud, sugar maple and a variety of oaks. New this year is hazelnut, a tree that will start producing seeds 2-3 years after planting. Hazelnuts are an excellent food source for wildlife and are higher in nutrition than acorns. Clements Nursery also offers four types of evergreens: white, Virginia and Scotch pines and Norway spruce. Customers can choose from 29 different species of seedlings for whatever their needs may be: reforestation, providing cover and food for wildlife, growing Christmas trees or reclaiming disturbed properties like those previously mined for coal.
All trees are bare-root seedlings and are 1-2 years old. Seedlings are sold in bundles of 25. Prices depend on the number of seedlings ordered, and there is a 30 percent discount offered on orders of 5,000 or more. Seedlings are grown from seed sources within West Virginia and surrounding states.
Order online at http://www.wvcommerce.org/ClementsNursery or call 304-675-1820.
For more information about Clements State Tree Nursery, visit the Division of Forestry's website at http://www.wvforestry.com.
# # #