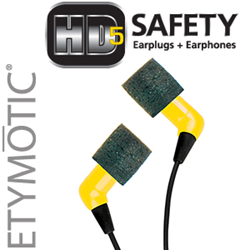 Etymotic's safety earphones and high-definition earplugs are expected to be among the hottest wearable technology devices at the Safety Council EXPO show.
Elk Grove Village, IL (PRWEB) August 29, 2014
A team of experts from Etymotic Research, an innovator in hearing wellness solutions, is on its way to the 2014 National Safety Council EXPO on Sept. 15-17 at the San Diego Convention Center to exhibit and demonstrate a suite of healthy hearing products for those who work in high-noise industrial environments. Etymotic's safety earphones and high-definition earplugs are expected to be among the hottest wearable technology devices at the show.
The company's HD5 high-definition, noise-isolating Safety Earphones are engineered for safe listening and exceptional sound quality. These earphones are doubly safe: First because they seal the ears to block sound (like earplugs), reducing the need to turn up the volume to overcome outside noise; and second because even at maximum volume control setting on portable players, these earphones are designed to limit the amount of sound that reaches the eardrum, which minimizes hearing risk. HD5's are designed for use in high-noise environments and to protect hearing from unsafe sound levels.
Etymotic's ETY•Plugs® HD Safety Earplugs are the world's highest definition ready-fit earplugs. They reduce most noise to safe levels while preserving the clarity of speech and environmental sounds. ETY•Plugs HD are configured to replicate the natural response of the ear canal so that when sound enters the earplug, it is reproduced unchanged, exactly the same as the ear would hear it, only quieter. They reduce sound levels evenly so that speech and environmental sounds are clear and natural, not muffled as with foam earplugs and keep users aware of their surroundings. ETY•Plugs HD reduce the potential for hearing damage outside of work from loud machinery, vehicles, power tools, sporting events and recreational activities. Regular use of high-definition ETY•Plugs HD Safety Earplugs protects hearing from the cumulative effects of overexposure to loud noise throughout life.
HD•15 High-Definition Electronic Earplugs are ideal for persons who work some or most of the time around continuous loud noise such as power tools, machinery, trucks or construction equipment, and want both maximum protection from loud impact noise and natural hearing when no background noise is present. HD•15 earplugs allow natural hearing until noise exceeds safe-exposure limits. Then there is automatic activation of 15-dB hearing protection plus maximum protection from sudden, loud impact noise. At the flip of a switch sound is amplified, improving distance detection up to five times for enhanced awareness of surroundings.
About Etymotic
Etymotic is a research, development and manufacturing company that designs high-fidelity personal audio products and hearing wellness solutions to assess enhance and protect hearing. For over 30 years, innovation and education have been central to Etymotic's mission. Etymotic is one of the most respected leaders in high-fidelity audio and hearing conservation. For more information about Etymotic, its hearing wellness mission and its products, please visit http://www.etymotic.com.