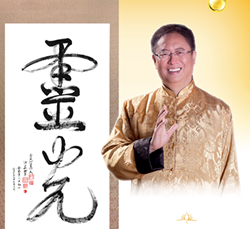 San Francisco, CA (PRWEB) August 30, 2014
On Saturday, August 16, 2014, the number 1 New York Times bestselling author and founder of Soul Mind Body Medicine®, Dr. and Master Zhi Gang Sha, unveiled a powerful alternative medicine therapy that shows individuals how to relieve chronic back and neck pain using meditation, creative visualization and Soul Healing Miracles Tracing Power with calligraphy art. Millions of people around the world experience pain and discomfort in their back and neck every day. Even after costly surgeries, pain medications, physical therapy and medical massage, their symptoms continue to affect and limit their quality of life. Now there is a way that sufferers can self-heal with Dr. and Master Sha's new series of Ling Guang Calligraphy Scrolls: Soul Healing Miracles Tracing Power with Ren Di Tian Tao Spinal Cord He Yi. Each Source Ling Guang Calligraphy carries matter, energy, and soul of Mother Earth, Heaven and The Source, which can transform the matter, energy and soul of the spiritual, mental, emotional and physical bodies
For more information about the contest to win a sacred calligraphy scroll created by bestselling author and Chinese medicine healer, go to: https://drsha.com/soulhealingmiracles/video-contest
Modern medicine focuses on matter inside the cells. Traditional Chinese medicine and many other healing modalities focus on the energy between cells. Soul Healing focuses on the soul. If a person is sick, the soul is sick. Master Sha's Soul Healing Miracles Tracing Power helps individuals use healing therapies to relieve the root cause of all pain and suffering by aligning their jing, qi, and shen (matter, energy, and soul). The cause of all sicknesses in the physical body, emotional body, mental body, and spiritual body is the misalignment of jing qi shen. Daily practice of tracing the Ren Di Tian Tao Spinal Cord He Yi (means Human being's, Mother Earth, Heaven, Tao Spinal Cord join as one) calligraphy art while meditating and using creative visualization can self-clear blockages in one's jing qi shen and relieve their back and neck pain.
All entrants will receive a complimentary one month subscription to the Soul Healing Miracles video-on-demand channel to continue their healing journeys with blessing and instructional videos from Master Sha. Since Master Sha is a channel who receives blessings from The Source and God, every brush stroke in the calligraphy art carries a soul blessing that is transferred into the paper and its energy is radiated out to anyone who witnesses it, or has the unique opportunity to trace the calligraphy. Already thousands have flocked to retreats, events and workshops to experience the healing blessings that radiate from the calligraphy. Now someone will win that sacred scroll to transform the energy of their home or office.
About the Source Ling Guang Calligraphy Series
Dr. and Master Sha uses a very unique and rarely taught technique of creating each word with only a single, continuous brush stroke for each of the nine The Source Chinese Calligraphy scrolls for his first collection as featured in the Soul Healing Miracles book and the Ling Guang Calligraphy documentary. His newest collection, the Soul Healing Miracles Tracing Power calligraphies, each scroll is designed to heal a different part of the body. "This calligraphy is not ordinary art. It is art, but it is more than art. It carries divine soul treasures, Source soul treasures to remove the suffering of humanity," says Dr. and Master Sha. Because Master Sha channels the Source, he transmits blessings instantly incorporating the healings, teachings and wisdom into these sacred scrolls. The Source Chinese Calligraphy scrolls create a healing field with the Source (frequency and vibration) power to transform all life, including boosting energy, stamina, vitality and immunity, as well as healing individuals' spiritual, mental, emotional and physical bodies, thus preventing sickness, transforming relationships and bringing success to every aspect of a person's life.
For more information about Dr. and Master Zhi Gang Sha's newest Source Ling Guang calligraphy scroll and enter the video contest to win the Ren Di Tian Tao Spinal Cord He Yi calligraphy scroll, please register at: http://www.DrSha.com
In a time when more people are looking to answers to life's questions, Dr. and Master Sha is proving to be a popular choice. Dr. and Master Zhi Gang Sha is the world-renowned miracle soul healer. He has created thousands of soul healing miracles worldwide in the last ten years (http://www.youtube.com/zhigangsha). He is the founder of Soul Mind Body Medicine™. He was trained as a conventional medical doctor in China and a doctor of traditional Chinese medicine in China and Canada. The founder of the Institute of Soul Healing and Enlightenment™ and the Love Peace Harmony Movement™, Dr. and Master Sha is a grandmaster of many ancient disciplines, including tai chi, qigong, feng shui, and the I Ching. Master Sha is also an expert in the most advanced cellular healing science now occurring in China. In the West, he is involved in breakthrough research on the effects of spirit on the human system. Dr. Sha was named Qigong Master of the Year at the Fifth World Congress on Qigong. In 2006, he was honored with the prestigious Martin Luther King, Jr. Commemorative Commission Award for his humanitarian efforts.
Dr. and Master Zhi Gang Sha has more than 100,000 followers on Facebook and an additional 250,000 devotees worldwide. The Soul Healing Miracles™ Chanting Channel fosters a soul healing community to learn and use chanting and soul songs for personal, spiritual, mental and soul development, 24/7. Dr. and Master Sha's Soul Healing Miracles™ Daily Live TV airs everyday on Livestream, 9am PT, 12pm ET. Master Sha's national television show, The Divine Soul Song Series airs several times each week across the US, as well as worldwide on on TelosTv.com's worldwide digital network and http://www.DrSha.com.