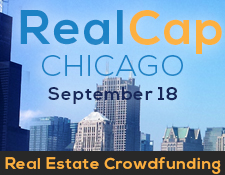 Chicago, IL (PRWEB) August 29, 2014
RealCap Chicago, a real estate crowdfunding conference taking place on September 18, has recently added Single Source Property Solutions as an official event sponsor. Single Source provides mortgage servicing and property management solutions to loan servicers and secondary entities nationwide. The diversity of Single Source meshes well with RealCap as the conference will welcome many members of the real estate industry with a variety of different backgrounds.
Single Source, based out of Pennsylvania, offers a mixture of services including valuation services, REO services, title services and property preservation services. One aspect of valuation services provided by Single Source is conducting broker price opinions (BPOs). This service offers an exterior and/or interior evaluation of a given property and its neighborhood to determine the fair market sale price.
Additionally, in offering REO services, Single Source performs occupancy inspections for clients, conducts "cash for keys" for homeowners, negotiates sales of properties and provides property preservation such as winterization and lawn maintenance. These services intertwine with real estate crowdfunding platforms that work directly with REO properties, such as American Homeowner Preservation ("AHP").
In addition to Single Source, RealCap Chicago sponsors will also include AHP, LDJ Capital, Times Realty News, Accredited Investor Markets and Victoria Global. RealCap Chicago will bring together representatives from the country's leading real estate crowdfunding platforms, real estate entrepreneurs and real estate investors. The one day event will provide several panel discussions, workshop opportunities and a social hour for networking.
RealCap Chicago is presented by The Soho Loft Media Group, a company that has helped produce other real estate crowdfunding conferences. The Soho Loft's Founder and Chairman David Drake was instrumental in advocating legislation for the JOBS Act, which led to the growth of the crowdfunding industry. Drake believes the evolution crowdfunding and online platforms have added transparency for real estate investors to see where their funds are actually going.
"In the old structure, individuals invest in real estate companies, often without knowing where future projects will be," said Drake. "In the new investment model called real estate crowdfunding, investors can choose a project to put their money without necessarily buying equity into a specific company. In this sense, investment decisions are project-based."
American Homeowner Preservation is a socially responsible investment fund manager which empowers accredited investors to purchase equity in pools of distressed mortgages and earn returns of 9-12%. For further information or inquiries please visit https://ahpinvest.com or call 800-555-1055.