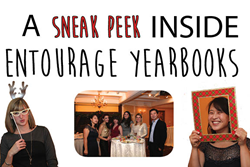 We always want to have happy customers in the end. If you and your school need an extra helping hand, we are here to give you just that.
(PRWEB) August 29, 2014
Entourage Yearbooks, a leader amongst yearbook companies, is composed of a staff of very creative minds. They are dedicated workers, but the fun committee makes sure there is also time for play! The fun committee is comprised of individuals from all areas of the company. They meet to discuss upcoming events and intermittent activities to keep employees on their toes!
Entourage relocated to a new facility a few months ago in order to accommodate the large number of schools producing their book with the Entourage Yearbooks team. The staff recently held a fierce room decorating contest. Account manager, Missy Feinen, shares more: "We were given a week to decorate areas of the office. Everyone picked different themes like growth and inspiration. In the end, everyone had a lot of fun and it was a great activity that got everyone together after our busy production season".
Jessica Lipkin, a sales representative, is also a part of the fun committee at Entourage Yearbooks. "There is always something exciting going on at Entourage. It makes coming to work that much more enjoyable for me! Last week we had a sports themed day and there is even a for fun fantasy football league", explains Lipkin.
Since the summer has started, the Entourage web team has been working hard on updating EDOnline, the company's yearbook software. A new version of the easy to use online software has been recently released to everyone. Entourage took suggestions from thousands of schools across the nation into consideration while making improvements. Their midday pizza celebration upon completion had the whole office jealous!
On breaks, many of the production staff participate in pickup games. Christopher Jankoski, production manager, says, "We take the printing of schools' yearbooks quite seriously. They go through an extensive quality control check before the books are allowed to leave our facility. Every now and then, we get to relax and have fun with a game of bocce or basketball".
In the midst of the school year, Entourage understands that sometimes yearbooks aren't always a school's top priority. Entourage Yearbooks offers a yearbook guarantee. Alex Labarrie of the Entourage support team explains further: "We always want to have happy customers in the end. If you and your school need an extra helping hand, we are here to give you just that. As long as you supply the pictures of your students, I can assist you in building your book. I have personally laid out entire books in a matter of hours". In the end, Entourage wants students, parents, and teachers to end up with a great production and the Entourage team is in place to ensure the best possible outcome.
At the end of the long production season, the Entourage team got gussied up for a night out after assisting in the creation of thousands of yearbooks! There was food, drinks, laughs, and tons of storytelling from the long days (and nights) spent working at Entourage Yearbooks. Sales manager, Judy Jo, says, "Everyone worked so hard this year to ensure a great outcome for each and every school we work with. The team here definitely deserved a celebration of their dedication and commitment throughout the 2013-2014 school year".
There were holiday parties, pumpkin carving contests, and basketball games this school year. All of these fun events are complied into an Entourage yearbook at the end of the year just like tons of schools nationwide. The Entourage Yearbooks staff says they are ready for the challenges and triumphs of the school year to come.