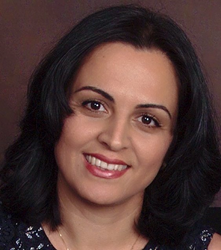 Irvine, California (PRWEB) August 29, 2014
Century Business Solutions, a technology-based merchant services provider, is happy to announce the addition of Zahra Bajgiran as the Director of Marketing. Bajgiran, who received an MBA in Marketing from CSU Fullerton, brings a host of credentials and skills to the table at Century, and an array of online marketing certifications—including search engine optimization, analytics, pay per click, and social media—that she received before continuing her education. "Working at another technology-based corporation years ago forced me to take on marketing and business development-related projects, as my company had absolutely no online presence to speak of," she said. "Doing all of that opened up a world of opportunities and knowledge to me, and I unwittingly discovered my passion." Her experience in the industry should prove very helpful in marketing Century's software-based credit card processing solutions.
Bajgiran has wasted no time since starting at Century, outlining short- and long-term goals she believes will significantly strengthen the company. These include optimizing all of the company's marketing channels, bolstering its presence on LinkedIn and Google +, and generating and converting leads online more effectively. Bajgiran believes blogging, for one, is a powerful tool that can be made to increase not only Century's client reach, but its sphere of influencers and partners, which will prove invaluable in the future.
She has already introduced the marketing team to a host of web tools designed to improve the company's standing in search engines. "Eventually," she added, "I want to reconfigure our entire website's link structure, which will make it much more accessible on Google."
Bajgiran's broad range of experience should help Century significantly as they prepare to launch several new processing integrations in the coming months. "This is a very exciting time for us as a company," she concluded. "Our processing solutions and development team set us far apart from the majority of credit card processors, and our strategic implementation of these new marketing plans in this extremely fruitful period should boost our position in the industry higher than ever before."