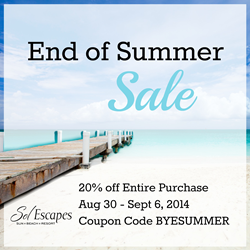 SolEscapes.com Coupon Code "BYESUMMER"
San Francisco, CA (PRWEB) August 29, 2014
As summertime comes to a close, SolEscapes announces a sale on their entire selection of travel-friendly, warm-weather centered products. Their entire selection of sun hats, resort apparel, sun care, travel beach towels and accessories will be on sale.
Customers will receive 20% off their entire purchase during this special offer. All items are included, even those on sale. The offer runs from August 30th through September 6th; customers will use coupon code BYESUMMER during checkout.
Though summer is at its end, many will want to take advantage of a great deal to stock up on warm weather products. For those planning winter getaway cruise or luxury resort vacations, taking advantage of the discounted prices will help them prepare for their trip while saving some money.
When stocking up for a winter vacation to a sunny climate, there are several staples to keep in mind:
A luxurious sun hat. Morgana is wide-brimmed and glamorous, making it perfect for a tropical cruise or resort. Made of Toyo straw, it has an adjustable drawstring for comfort and fit. $83 by Gottex.
A cover-up. When spending time at the pool or beach, a cover-up is indispensable. These Crochet Cotton Cover-up Tunics are stylish as well as providing some coverage when not in the water. $99 by La Blanca.
A travel beach towel. Ordinary towels are bulky and soggy, but Travel Lux Microfiber Beach & Pool Travel Towels are designed to travel and perform. Made of soft and absorbent microfiber fabric, these towels quickly wick water away, then dry quickly. They are very lightweight and pack small (1/4 the size of a typical beach towel when folded), so they are ideal for packing. $69 by SolEscapes.
Sun care products. Sunscreen bottles are likely empty at the end of summer, so it's time to stock up in preparation for winter travels to the beach – or even to the slopes. COOLA sun care products are made from high quality, organic ingredients and come in several light, refreshing scents as well as a variety of formulations.
Children's Swimwear. After a summer of playing in the sun, surf and sand, kids swimsuits get worn and faded. Swimsuits and rash guards by Snapper Rock, such as the 3- Piece Garden Flower Swim set with a striped sun protection shirt are made of high-quality, sun protective fabrics. They are stylish and help protect kids delicate skin from the harsh rays of the sun. $68 by Snapper Rock.
Warm weather travelers, resort vacationers and cruise lovers will appreciate this chance to get 20% off their entire purchase. The special offer starts August 30th and ends on September 6th. Customers need to enter coupon code BYESUMMER during the checkout process.
SolEscapes is a California-based online boutique offering a unique selection of stylish and practical sun, beach, and resort essentials for all warm weather needs. SolEscapes offers personalized service, high quality products and fast, affordable shipping. Merchandise, including all beach hats, is carefully and beautifully packaged to ensure a perfect arrival. For more information, please visit SolEscapes.com. You can also connect with SolEscapes on Facebook, Instagram, Twitter, and Pinterest.