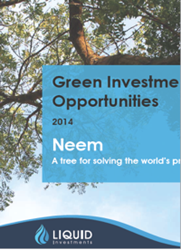 (PRWEB UK) 30 August 2014
Neem – A Natural Solution, What's The Problem?
There is huge pressure on the world's main food producing nations to meet the primal and global demand for more food. In 1950, there were 2.5 billion people in the world; today there are more than seven billion. The world's population has doubled since 1970 and the latest global population forecast revision from the UN in 2013 predicts a further increase in the number of people on the planet by 2050 to 9.6 – 10 billion.
As the world's population increases, so does the demand for a lot more food. In turn, the correct pesticides need to be used. While chemical pesticides and fertilizers are a quick fix, organic alternatives such as neem act in the same way as well as being both ethical and green.
Chemical pesticides have a variety of harmful effects on the environment, people and food production. Over 98% of insecticides and 95% of herbicides reach a destination other than their target species, including animals, plants, air, water and soil. This results in the destruction of biodiversity and habitats that threaten endangered species and increase pollution.
Neem has several advantages by providing a multitude of products and end uses, such as organic pesticide management, organic fertilizers, and as an alternative to mainstream medications.
Neem as an investment commodity is appealing for the following reasons:

With the rising demand for food as a result of the world's growing population, the broad use of chemical pesticides is resulting in a wide range of harmful effects to humans and the environment.
A jump in disposable wealth is leading to people spending a higher proportion of their incomes on leading a healthy lifestyle through organic foods.
Neem is an effective organic pesticide, while neem (cake) can be used as an organic fertilizer.
Antibiotic resistance is increasing due to medications being over-prescribed and the consequent misuse of prescriptions, leading to rising demand for naturally sourced alternative such as neem.
For the full version, download the "Green Investment Opportunities" guide.
For Further Information:
Jayshree Badhan, Chief Marketing Officer
Jayshree(dot)Badhan(at)liquid-investments(dot)com
Call:
+44 (0) 20 7084 7421
Note to Editors:
Founded in 2006, Liquid Investments is a British owned and operated business headquartered in Knightsbridge, London and with an office in Fortaleza, Brazil. The company provides global investment solutions allowing institutional and private investors to accumulate wealth through safe and secure alternative investments in emerging markets.
Liquid's investment process is driven by 'Liquid Investment Theory' (LIT), a refinement of Modern Portfolio Theory, itself used in one form or another by all fundamentally driven investors. LIT focuses on investing in tangible alternative assets providing a greater degree of security (such as asset secure farmland), with products that deliver a consistently higher level of returns (currently double digit annual yield) to a wide variety of end-user markets.