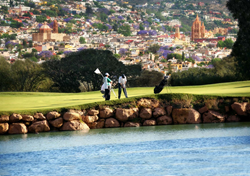 Luxury gated communities such as Ventanas de San Miguel located just a few minutes from downtown offer open spaces, tranquility and modern amenities like golf courses, spas and tennis.
San Miguel de Allende, Mexico (PRWEB) September 01, 2014
Colonial with a touch of eccentric, San Miguel de Allende is a small town best known for its centuries-old architecture, almost year-round perfect temperatures and safe streets. And in 2014, San Miguel is also known as the city on the rebound – a town where tourism has increased by nearly a third and real estate sales have more than doubled in the past two years.
With a glance around El Jardín, San Miguel de Allende's busy yet quaint central park, one thing is clear: business is booming again. This picturesque square, with its signature Gothic church, the Parroquia de San Miguel Arcángel, and its Gothic-style architecture with pink hued spires and arches anchoring the epicenter of San Miguel, gives clues to the observant eye that this town has its pre-recession mojo back. The signs are everywhere: busy boutique shops, packed rooftop restaurants setting their tables for lunch and Colonial style homes that quickly swap "For Sale" signs to "Sold".
For many of San Miguel's expats, real estate investors, and retirees, downtown's historic homes are the abode of choice. But Mexico real estate expert Robert Gaudet with Palms International Mexico explains that more and more international buyers are looking just outside the town's historic center. "Luxury gated communities such as the area's newest and largest Ventanas de San Miguel located just a few minutes from downtown offer open spaces, tranquility and modern amenities like golf courses, spas and tennis," – all things you wouldn't find inside the walls and busy cobblestone streets of San Miguel's Centro neighborhoods.
To anyone familiar with this overwhelmingly charming little city, this uptick in interest from vacationers, second homebuyers and retirees, is not surprising. A recipient of many accolades, San Miguel's latest comes courtesy of Conde Nast Traveler, whose readers voted it 2013's Best City in the World. (Yes, the absolute #1 city – ahead of Paris, New York, London and Florence.) The magazine's seasoned travelers noted San Miguel's quaint atmosphere, free of billboards and traffic lights, and labeled the 68-square-block town a romantic remembrance of old Mexico.
Indeed, San Miguel's colonial charm, friendly community, and nostalgic architecture have wooed many a first-time visitor into property owners. In fact, while tourism is up an estimated 32 percent, what's even more impressive is San Miguel real estate, where sales rose an incredible 85 percent in 2013, and in 2014 sales are on track to jump an additional 30 percent. Historically, buyers are predominately both wealthy Mexicans and Americans – approximately 18 percent of San Miguel's residents are expatriates.
And though counterintuitive, these luxury gated communities are often much more affordable than their downtown counterparts, making them even more attractive in this post-recession real estate market.
Gaudet also adds that, "San Miguel's soon to be launched private residence club at Ventanas de San Miguel, The Residences at Ventanas, will offer vacation and second home buyers fractional ownership and another way to own and enjoy vacationing or living in San Miguel. This popular vacation home option (not to be confused with timeshare) also means property buyers can get their foot in the door of a beautiful San Miguel home without the cost of buying or the expenses of maintaining a home in San Miguel de Allende, Mexico."
With San Miguel's property sales and prices beginning to climb again, local experts project that prices are at their lowest right now and for the foreseeable future. And buildable land around town in places like Ventanas de San Miguel is becoming scarce. As Mark Twain once said "buy land, they are not making anymore of it".
For more information, please contact Palms International Real Estate by email at Info(at)PalmsIntlSanMiguel(dot)com or by phone at (855)-285-0805.