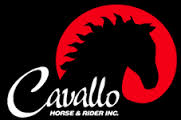 GetUWired gave Cavallo Horse and Rider a whole new look with a 100% responsive website, custom shopping cart and more.
(PRWEB) September 02, 2014
GetUWired, a leading Internet marketing firm that specializes in responsive websites, has just released a case study detailing its work for Cavallo Horse and Rider. The case study can be read here.
In March 2014, Cavallo Horse and Rider came to GetUWired with two less-than-perfect websites (not responsive websites), an unimpressive shopping cart, and a need to convert the leads that were pouring in to their website and then dropping off. By August, GetUWired had fulfilled every one of their wishes and set them on their way toward even greater success. Here's how they did it.
About Cavallo Horse and Rider
Cavallo Horse and Rider sells hoof boots, saddle pads and other equestrian accessories. Founded in 1994 by businesswoman and accomplished rider Carole Herder, Cavallo is committed to providing products that increase the comfort and safety of horses and their riders.
Cavallo is committed to promoting the "barefoot philosophy." The barefoot philosophy holds that horses' feet are engineering marvels that are hindered by wearing metal shoes. Cavallo's hoof boots, their most popular product, are designed to replace clunky metal shoes for barefoot horses.
Cavallo Needed a Responsive Website and Much More
Originally, Cavallo came to GetUWired to simply add some marketing elements to their website, such as popup ads. But they also had two websites in mid-build as well as a shopping cart that wasn't filling their needs.
Also, their website was simply not converting. Cavallo got plenty of traffic from CPC ads, retargeting and social media, but once customers got to their site, they dropped off. Cavallo realized they needed a better-converting site.
"So when they came to us to talk about upsells, they talked themselves into a new website and shopping cart, too," said GetUWired VP of Operations Melissa Allen, who managed the Cavallo project.
What GetUWired Did for Cavallo
In just four and a half months, GetUWired overhauled Cavallo's web presence and shopping experience with a plethora of user-friendly, customized solutions, including:
1. 100% Responsive Website (including the checkout process) http://www.cavallo-inc.com.
2. Completely custom shopping cart built on the Infusionsoft framework. GetUWired took Cavallo's list of wants, and whatever Infusionsoft couldn't do, GetUWired engineers made a customized solution for.
Examples of our custom solutions include:

Real-time stock tracking – The shopping cart always knows exactly what's in the warehouse, and it will only allow customers to add available sizes and quantities to their shopping carts. This eliminates frustrating backordering for an even better client experience!
Cool Promo Codes – The system automatically advertises and applies promo codes related to certain products. Promos include free items, free shipping, and discounts. The promos respond to items in the cart, so that if the item necessary to receive the promotion is removed from the cart, the promo is automatically removed as well.
Slash-Through Sales Pricing – GetUWired made it easy for Cavallo administrators to put their items on sale. When changing the price on an item, the original price shows with a slash through it, advertising to customers what a great deal they are getting.
Dynamic testimonials – Each product page automatically pulls in testimonials related to that product.
Suggested Products – Each product page automatically displays related products the customer might be interested in.
Custom Integrations – GetUWired integrated the shopping cart with merchant accounts and real-time shipping quotes that weren't natively supported by Infusionsoft.
Automatic Order Fulfillment – Orders are automatically sent to the fulfillment center so customers get their orders even faster.
Email Campaign Integrations – The checkout process is integrated with Infusionsoft and triggers certain email marketing campaigns based on purchases.
3. Facebook plugin shows faces of their fans at the bottom of the homepage. The faces are randomly selected so users never see the same combination of faces twice.
4. Never-Boring Homepage Sliders – Sliders on the homepage rotate randomly so users don't get bored looking at the same order over and over.
5. Custom Design on Every Page – Unlike many other sites, every page of the Cavallo site is now custom designed, making surfing the site even more pleasurable for users.
6. Easy-to-Use Testimonial Submission page – Now Cavallo's raving fans can submit their testimonials with just a click of the mouse.
7. User-Friendly Navigation – GetUWired reorganized Cavallo's sitemap to reflect users' natural path through the site.
8. Admin-friendly CMS – GetUWired customized the backend of Cavallo's CMS to make it easy for them to add new products and make other changes to the site. Now it's possible for Cavallo administrators to take control of their website and edit it with as few steps as possible.
The Client Loves It
The Cavallo team is very happy with the results of GetUWired's diligent and creative work.
"They love the design," said Melissa. "They got everything they wanted with the new shopping cart. They got every single feature they wanted and didn't have to compromise."
What's Next for Cavallo
Now that the site and shopping cart are up and running beautifully, GetUWired is ready to take on Cavallo's next two requests – a custom "Build a Boot" functionality and an automatic upsell feature that will advertise Buy-One/Get-One and Buy-This/Get-That deals automatically when a customer adds certain items to their shopping carts.
For more information, call GetUWired at 877-236-9094 or visit http://www.GetUWired.us.