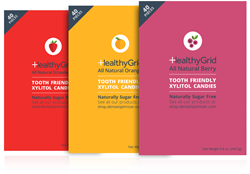 We know that the flavor of Xylitol will win people over. When they see the improvement in their dental health, they're going to want to stick with it. - Andrew Clapp, Healthy Grid
Portland, OR (PRWEB) August 31, 2014
Healthy Grid announced the impending release of two new tools to fight cavities. Loloz lollipops will use herbs to fight the bacteria that cause tooth decay and Xylitol hard candies will also fight bacteria while stimulating saliva production.
"We're very excited to be rolling these out close together," said Andrew Clapp of Healthy Grid. "Even though personal dental care is on the upswing, we know that people can always use a little more prevention. Cavities are painful and expensive but these treats are tasty and easy to use. We hope to help people get better news at the dentist and longer use out of their teeth."
Loloz lollipops are the brainchild of UCLA professor Wenyuan Shi as well as the result of centuries of Chinese herbal remedies. As chair of the Oral Biology Section at UCLA's School of Dentistry, Shi has sought to bring better dental care to underserved portions of the population including impoverished people, geographically isolated people, children, and the elderly. Many people don't have access to the right tools and education and many don't have the physical capacity to adequately floss and brush.
Shi thought that the answer might be found in traditional Chinese herbs. After more than 50,000 trials, he concluded that licorice root would fight the streptococcus bacteria that causes tooth decay. Because the extract would need a few minutes of exposure to kill the bacteria, Shi decided to make it into a lollipop. Licorice root in this form doesn't produce the flavor associated with the name so orange was elected as the initial flavor.
"For Loloz, and this is the case with Xylitol too, it's important to not bite through the candy," says Clapp. "Number one, your dentist will be disappointed if you're biting through any hard candy. Number two, these things take a couple of minutes to have their intended effect. Let them melt in your mouth."
Loloz will be available from the Dental Optimizer site. The recommended schedule is two lollipops per day for ten days and Healthy Grid suggests that this should be repeated four times per year.
Healthy Grid is currently offering Xylitol Tooth-Friendly Candies to help the fight against tooth decay. Xylitol is a sugar substitute that is widely known for its flavor and consistency in cooking. According to Healthy Grid, Xylitol works by depriving bacteria of the sucrose it needs to grow.
"Forgive the technical-speak here," said Clapp, "Regular sugar feeds the bacteria and fosters growth leading to tooth decay and gum disease. Xylitol's different chemical makeup doesn't feed the bacteria and since it stimulates saliva production bad particles clear out more quickly. Your mouth becomes more hostile to the harmful bacteria."
Other benefits come to the users of Xylitol as well. It contains fewer calories per serving than sugar so it's beneficial to those seeking both weight loss and a treat. It also metabolizes more slowly than sugar so it is likely better for people with diabetes.
The experts at Healthy Grid recommend enjoying Tooth-Friendly Xylitol candies around 5 times per day and, like the Loloz, they recommend letting them dissolve and not biting through them.
"The Xylitol candies are available on Amazon right now, said Clapp, "and we should have the Loloz out in a few months. We know that the flavor of Xylitol will win people over. When they see the improvement in their dental health, they're going to want to stick with it." According to Clapp, the Xylitol Tooth-Friendly Candies can currently be purchased at Amazon.com.
More information is available at http://www.healthygrid.com/xylitol and http://loloz.com/.