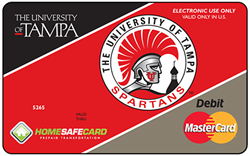 Drunk driving accounts for more than 30% of traffic fatalities. Home Safe Card's primary mission is to reduce those numbers as much as possible.
Overland Park, KS (PRWEB) September 02, 2014
Store Financial is teaming up with Home Safe Card to launch a prepaid card that encourages a safe ride home for students, families and business travelers. Store Financial is the program manager and processor for the program, and the University of Tampa has stepped forward as its first participant.
Home Safe Card is an organization that aims to prevent drunk driving accidents and encourage safe transportation. An alternative to cash and credit cards, the Home Safe Card is a prepaid gift card that can only be redeemed for taxi fare, mass-transit fare, rental car fees, airline tickets and other transportation methods.
The Home Safe Card was created by Perry Anderson, a police officer with the Tampa Police Department. Anderson's experience as a police officer, coupled with a nearly fatal car accident involving his nephew, led him to the idea of the Home Safe Card.
"Drunk driving is one of the most preventable problems our nation faces, yet it accounts for more than 30% of traffic fatalities, claims the lives of more than 10,000 people and costs more than $50 billion in damages each year. Home Safe Card's primary mission is to reduce those numbers as much as possible."
The University of Tampa will be the first organization to implement the Home Safe Card. Associate Dean of Wellness Gina Firth chose the program for its emphasis on student safety.
Firth explains, "The University of Tampa is committed to the Home Safe Card project because it provides a safe, reliable transportation option for our students as they venture out into the community. There are multiple uses for the card that range from emergency transportation, safe transportation when students are out socially, and ease of budgeting. Students cannot spend the money placed on the cards for anything other than transportation. The University of Tampa is excited to pilot this innovative and important program."
The program runs on Store Financial's controlled redemption platform, which enables clients to choose their network of merchants and control the use of the card. Anderson explains, "Store Financial has a proven track record for connecting specific groups of merchants through prepaid card programs. Our program will include multiple transportation companies, but it will exclude other types of merchants to ensure the card is used only for transportation. Students, for example, will need to find other sources of funds for food and entertainment…But the Home Safe Card will still be in their wallets to ensure a safe ride home."
The Home Safe Card has been endorsed by Anheuser Busch, MADD (Mothers Against Drunk Driving) and Pepin Distributing Company, a Tampa-based beverage distributor.
Cards are now available for purchase online and at University of Tampa. Anderson concludes, "I'm hopeful that more organizations like the University of Tampa will partner with Home Safe Card to create new channels and reach more students, parents and families – and ultimately help prevent drunk driving accidents in their communities."
About Store Financial: Store Financial is a leading provider of private-label payment card programs to corporate payers. Store Financial builds scalable processes that leverage its unique processing platform to deliver products that solve three key issues in corporate payment programs: enabling redemption, controlling use, and automating settlement. Since 2003, Store Financial has gained an international presence with more than 650 programs worldwide. The company is headquartered in Overland Park, KS. Visit us at http://www.storefinancial.com.
About Home Safe Card: From business trips, to personal commutes, the Home Safe Card gets you where you need to go without the need to carry cash or credit cards. The Home Safe Card is a prepaid transportation-only card that can be activated for use right away. Our card is accepted nationwide for use with rental cars, taxis, mass transit systems, all major airlines and more. For more information on Home Safe Card, call (813) 343-8000 or visit the company's web site at http://www.homesafecard.com.
About University of Tampa: The University of Tampa is a private, residential university located on 105 acres on the riverfront in downtown Tampa. Known for academic excellence, personal attention and real-world experience in its undergraduate and graduate programs, the University serves 7,343 students from 50 states and 136 countries. Approximately 65 percent of full-time students live on campus, and about half of UT students are from Florida. For more information on the University of Tampa, call (813) 253-3333 or visit http://www.ut.edu.