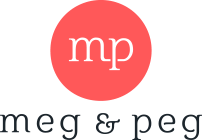 St. Louis, MO (PRWEB) September 23, 2014
Meg and Peg is a mother-daughter owned and operated online business specializing in personalized gifts, apparel, and accessories. The new website features a welcoming online shop where customers can purchase on-trend monogrammed gifts for every occasion. 
The business originated when both mom and daughter began fashioning sleek, monogramed 
gifts for family and friends. In January of 2013, they turned their hobby into a business. 
Meg and Peg were both born and raised in St. Louis and are very proud to have their business headquarters here as well. Their business has expanded out from their small home business, and now, their distinctive products are sold across the country. Meg and Peg products are hand selected for superior quality and style. The family duo happily fosters relationships with clients, giving them the advantage of providing unsurpassed customer service and product recommendations that clients can trust.
Additionally, a portion of Meg and Peg's proceeds are donated to local area charities in an effort to practice conscious capitalism and support the community. 
For more information on Meg and Peg, please visit http://megandpeg.com/about/
About Meg and Peg
Meg and Peg is a locally owned and operated mother-daughter online business. They specialize in personalized and monogrammed gifts, apparel, and accessories. Meg and Peg have enjoyed turning their hobby into a country-wide business over the past year. They provide clients with unmatched customer service, trusted recommendations, and a genuinely beautiful experience with each purchase.
For more information on Meg and Peg and to shop their site, click here.