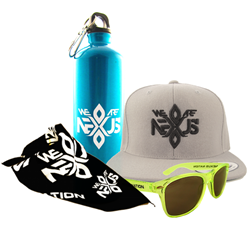 All the swag features our Nexus brand and logo, which is an awesome logo... I have to say, if I didn't know about (We Are) Nexus I would still want to own one of these items as they look amazing
Chicago, IL (PRWEB) September 03, 2014
We all know that Electronic Dance Music (EDM) has been touted as the fastest growing music genre in the world, with an estimated annual revenue stream of over six billion dollars. While music sales remain at an all time low, EDM festivals are reporting staggering sales and sell out crowds across the globe.
It would only make sense that one would want to be festival ready in preparation for this potentially life altering experience. Do you know how many uses a simple bandana can have at a music festival? Or that water bottles are usually one of the few items you can bring in from the outside?
Thankfully, (We Are) Nexus, Chicago's newest EDM sensation, does, and they want you to be festival ready as well. That's why the EDM duo, comprised of vocalist/lyricist Carmen Rainier and producer/composer Nick Gunn, have introduced a line of swag adorned with their stand out logo.
"All the swag features our Nexus brand and logo, which is an awesome logo" says Nick Gunn. "I have to say, if I didn't know about (We Are) Nexus I would still want to own one of these items as they look amazing".
There are high-quality aluminum water bottles, with a threaded lid and carabiner for clipping, in teal and matte black; Malibu shades in a range of colors, from plain black to translucent blue or lime green; 22"x22" black logo bandanas (perfect for covering your face during the unexpected sand storm); high-quality snapback hats with flat visors and makers sticker, in gray with black 3D embroidered logo or black with a dark purple logo; and finally stainless steel dog tag bottle openers, so you'll never be stuck with a drink you can't open.
To be completely covered and save money at the same time, check out their bundled Festival pack, complete with bandana, water bottle, hat, and sunglasses, you choose the exact color combo you want to rock. Play
(We Are) Nexus blasted on to the EDM scene just one year ago with their break out hit "It Feels So Good", a cover to Sonique's 1998 hit of the same name. Shortly thereafter the duo released their original singles "World Around Me", "Shamelessly", and "Better Off Without You" that have shown exceptional traction amongst fans and industry alike charting on both iTunes top 100, Billboard and radio across the country.
With the recent launch of their new fan site, Nexus Nation, fans have an alternative option to get their hands on some Nexus merchandise. At Nexus Nation fans participate using their social media to earn points giving them an opportunity to win free Nexus swag, including some items not available at the store.
"It was a ton of work trying to get all our merchandise together properly" says Carmen Rainier. "I wanted to make sure everything was of the highest quality without being to expensive for our fans".
Without a doubt, the line of merch is of exceptional quality and reasonably priced. Most importantly, the Nexus logo works beautifully on the entire product line, whether or not you are a fan. You can check out the entire product line, which includes mixing and matching your favorite festival combination packs, at the following link: http://www.wearenexusedm/shop
Become a citizen of Nexus Nation and earn points to win incredible swag at http://www.wearenexusedm/nexusnation. Follow (We Are) Nexus on FaceBook @WeAreNexusOfficialPage and on Twitter @WeAreNexusEDM.