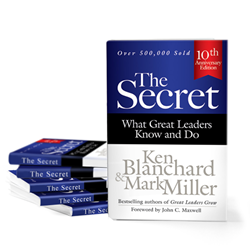 If you know the secret, both relationships and results will prosper. It's a perfect move in your life from success to significance.
Atlanta, GA (PRWEB) September 02, 2014
A decade ago, management expert and "The One Minute Manager" author Ken Blanchard and Chick-fil-A executive Mark Miller teamed up to write what would become one of the most influential and successful books in leadership and management studies: "The Secret: What Great Leaders Know and Do."
At the heart of "The Secret" is the story of a fledgling business leader whose mentor teaches her what he considers the foundational principle of effective leadership: great leaders serve. The reader follows the young executive's development through five different elements of service leadership as she learns.
Practical, positive and accessible, "The Secret" became a runaway best-seller. Now, with more than half a million copies of the original edition in print in 25 languages, "The Secret" is being expanded for a new generation of leadership. While the original text remains unchanged, the authors have added a section that answers the questions they hear most often, as well as an assessment with which readers can measure themselves against the five critical practices.
"The great thing about this concept," says Miller, "is that the benefits of the secret are within anyone's reach—and now we hope to make them even more accessible."
Bob Buford, author of "Halftime," sees immediate value in the book's principles: "If you know the secret, both relationships and results will prosper. It's a perfect move in your life from success to significance."
To celebrate the launch of the anniversary edition, the authors invite readers and anyone who is interested in learning more about leadership to attend a webinar in which they will discuss the book's origins and influence as well as their own journeys through its practices and principles. Moderated by Becky Robinson of Weaving Influence, the webinar will take place Sept. 29 at 2 p.m. EDT.
The 10th anniversary edition of "The Secret" is available now for preorder in print and electronic formats at major book retailers, including at this link on Amazon.com.
To learn more about the webinar, visit this page on the Weaving Influence website.
View a short film in which Mark Miller discusses the origins of "The Secret" at https://brandapart.wiredrive.com/present-project-detail/token/fa7844becc663c5822fa5dda047030b8 .
Ken Blanchard is the co-founder and chief spiritual officer of the Ken Blanchard Companies, an international management training and consulting firm that he and his wife, Margie Blanchard, began in 1979. One of the most influential leadership experts in the world, Blanchard serves as a visiting lecturer and trustee emeritus at his alma mater, Cornell University.
Mark Miller is a well-known writer and speaker in the field of leadership. He also serves as vice president for organizational effectiveness at Chick-fil-A, where he began working as an hourly employee in 1977. He is the author or co-author of four influential books, including "The Heart of Leadership" (2013), and is an accomplished amateur photographer.
Becky Robinson is the CEO and founder of Weaving Influence Inc., a social media consulting and implementation company specializing in helping authors and thought leaders grow their online influence and market their books.