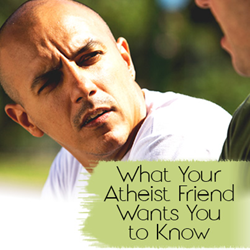 "It's not often that atheists and Christians have honest conversations about their beliefs without judging one another,"Lifetree Cafe National Director, Craig Cable
Loveland, Colorado (PRWEB) August 29, 2014
"There's a misconception atheists aren't as moral as people of faith," says Steve Graham, a self-proclaimed atheist. "But we can be just as moral. I have a complete and fulfilled life without faith. I don't feel there's anything missing from my life."
Lifetree Café national director Craig Cable says he's excited for people to gather in Lifetree Cafés around the country to have nonjudgmental conversations about atheism with atheists.
"It's not often that atheists and Christians have honest conversations about their beliefs without judging one another," he said. "With this episode, we're aiming to create a respectful environment for this kind of conversation in Lifetree branches from coast to coast."
"What Your Atheist Friend Wants You to Know" will be offered at Lifetree Café locations across the country as a way to give participants opportunities for safe, open conversations about their experiences with atheist secularism and with faith.
Lifetree Café is a national network of venues where people gather for conversation about life and faith in a casual coffeehouse-type setting.
Lifetree Café locations and times may be found at lifetreecafe.com.
Watch video preview: http://lifetreecafe.com/#/topics/091414
###