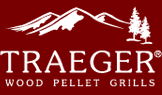 Wilsonville, Oregon (PRWEB) September 03, 2014
Traeger Pellet Grills, LLC. is proud to announce the new Pro-Series line of Wood Pellet Grills. The Pro-Series, built for the grilling professional, offers more performance and new features. The updated aesthetic of the Pro-Series grills enrich the classic barrel-design Traeger made famous over 20 years ago.
The flagship models of our new Pro-Series are the Texas Pro and the Lil' Tex Pro. Both grill models feature the new Digital Pro Controller. This adds dual meat-probes featuring LED readout to monitor the internal temperature of 2 different meats, as well as the internal temperature of your BBQ, producing the best results for the professional pit master. The new Pro-Series grills have 30% more grilling surface; the addition of removable second-level grill grates is perfect for smoking Jerky or staging cook times of various foods. Another new feature, the quick-access door on the pellet hopper, allows for the swift clean-out and exchange of pellets. With this addition, it is easy for the seasoned grill master to swap between our 8 different flavors of food-grade hardwood pellets. Mesquite Chicken on Saturday…Hickory smoked bacon on Sunday…this pellet flavor alternation is easy with the new hopper clean-out function.
The Pro-Series also features a new and beautiful embossed lid.
"In designing the new grills, we listened to our dealers and fans to make their ideas a reality", says Traeger CEO Jeremy Andrus. These grills are new for the 2015 season but are available in a limited quantity in select specialty retail doors starting September 2014.
Click for a video of the Pro-Series- https://www.youtube.com/watch?v=N-3caPYIUJA
Traeger-Pellet Grills LLC., headquartered in Oregon, is the industry leader in wood pellet grills and accessories. In the early 90's Joe Traeger had a revolutionary idea that continues to shape the grilling industry. Traeger grills are sold throughout the USA at select specialty bbq retailers, hardware stores, outdoor stores, and other retail outlets. With an amazing customer service program, great dealers, and a great online presence with informative resources, Traeger Grills continues to be the industry leader in wood pellet grilling.
For more information about Traeger Grills LLC, visit http://www.traegergrills.com
Contact:
Brady Paulich
Traeger Public Relations
bpaulich(at)traegergrills(dot)com
801-701-7180