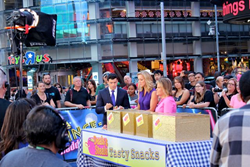 New York, NY (PRWEB) August 29, 2014
Yesterday morning Divino shared the love with Tory Johnson and Good Morning America on ABC, with Johnson's popular Deals & Steals segment.
All over the continental US, viewers may, for the next two days, order a case of Divino for half off of its original price by clicking through to http://gma-divino.com/password (promo code: GMA). Normally $99 per case, for the next two days Divino's handcrafted gelato and sorbet filled fruits are available for $49.50. Each case contains 12 individual sized boxes of your favorite Divino fruit gelato or sorbet, convenient for social gatherings or an on-the-go pick-me-up.
Every week, Tory Johnson joins the cast of the Good Morning America to present her Deals & Steals. Working with both large, established companies, as well as smaller companies just starting out, Johnson personally selects she presents on the show, which are then sold at huge discounts.
For more information about Divino please visit http://divinodessert.com/.
Like us on Facebook at https://www.facebook.com/divinodessert.
And follow us on Twitter at https://twitter.com/divinodessert.