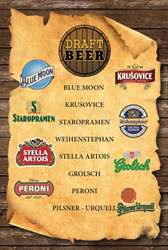 (PRWEB) September 01, 2014
Cuisine for kleptos! In general, it's a good business practice to discourage stealing, but a Brooklyn-area restaurant must have missed that memo, because it's running a promotion in which it's asking its customers to pilfer. Nargis Café, a popular Sheepshead bay restaurant serving Central-Asian food, has had some pens made with their names on them. Perhaps inspired by Lindsay Lohan's recent shoplifting exploits, the Nargis Café is asking its customers to take these new pens, not as souvenirs, but through acts of theft.
Customers who steal pens from the Nargis Cafe are opening up their lives to more than thievery. A customer in possession of a Nargis pen becomes part of something larger than themselves; the Nargis pen unlocks an as-of-yet untold world of special offers from the restaurant that specializes in Uzbek cuisine. The Nargis Cafe isn't giving their pens away, but if a customer sees one laying around, customers would do well to swipe it for themselves, and keep it until the time is right.
Once a customer has a pen, any sense of guilt may be alleviated by checking out Nargis Cafe on social media, where the restaurant will post its deals for these klepto-customers. When the time is right, customers who stole pens and pay attention to Nargis Café on social media will learn of special offers and deals that only people with pens may enjoy. Indeed, to steal a Nargis Cafe pen from the restaurant is to join a merry band of thieves.
Stealing a pen is like stealing access to offers and discounts the more honorable guests of the restaurant will sadly never know. The pens are colorful and they say Nargis Cafe on them. Pens matching that description on the Nargis Cafe premises are fair game to anyone with a kleptomaniacal urge to see what special offers are in store. However, stealing any other pens that don't say 'Nargis Café' and aren't contained in the restaurant may be punishable by law.
Eventually, every last Nargis Cafe pen will be lost to thieves. Given the popularity of the restaurant, this will probably happen sooner than later. While the honorable diners still may walk proudly, knowing they haven't stolen from Chef Big B and his restaurant, the clients will have exclusive offers for gourmet Uzbek and central-Asian food from a much-heralded restaurant. This promotion the Nargis Café is running brings into question the adage "crime doesn't pay."
The restaurant serves a variety of food inspired by the ethnic cuisine of Uzbekistan, Central Asia, the Middle East and the Mediterranean. Nargis Café was opened in 2007 by Uzbekistan-born and American-trained Chef Big B. The restaurant grew from humble beginnings, as a small take-out restaurant where chef Bangiev was the main force behind the whole operation, to the 100-seat dining room with a kitchen full of staff cooks of today.
Located in Sheepshead bay, at the corner of Avenue Z and Coney Island Avenue, Nargis Café is a favorite of both locals, and immigrants and travelers who find comfort in the colorful décor based on creating an authentic Uzbek and Central-Asian experience. The floor is patterned and colored with beautiful suzani rugs, and all the servers wear traditional tubeteika hats. A young woman in the New York Times said visiting Nargis Café feels like family to her.
As for the food, shish kebabs are one specialty. Another specialty is the Uzbek Plov, which is a lamb dish served with rice, carrots and chickpeas. The Nargis Café menu also includes a number of dumpling and noodle dishes that come either steamed or fried. For dessert, there are choices like baklava – a flaky and syrupy pastry from Central Asia. There's also spartak, which is a cake from the same region. For a less exotic dessert choice, there are items like lava cake. To drink, Nargis Café offers a wine list that includes Khvanchkara, which is noteworthy for being Josef Stalin's favorite wine. There are also a number of European-style beers like Stella Artois and Peroni available to patrons 21 and over.
The Nargis Cafe is no stranger to being in the spotlight. Nargis Café has been featured on a couple TV shows. One appearance was on the Cooking Channel, on a show called "The Culinary Adventures of Baron Ambrosia." The other was as a filming location for a scene from the FX Network's "the Americans." As a restaurant specializing in Uzbek and central-Asian cuisine, the Nargis Café décor fit the theme of the Cold War-era show.
ABOUT NARGIS CAFÉ
Founded in 2007 by Uzbekistan born and American trained chef Boris Bangiev, Nargis Café is an Uzbek restaurant serving Central Asian cuisine, mixed with a touch of modernity. This busy and beloved restaurant is located in the Sheepshead bay neighborhood of Brooklyn. The restaurant has been featured in print in the New York Times and the Village Voice, and on TV, as an on-location shoot for the FX TV series, "The Americans." Nargis Café was also featured on Cooking Channel in an episode of "The Culinary Adventures of Baron Ambrosia."
http://nargiscafe.com
http://twitter.com/nargiscafe
http://facebook.com/nargiscafe
2818 Coney Island Ave
Brooklyn, NY 11235
(718) 872-7888
Hours:
Mon, Tue, Wed, Thu: 12:00 pm - 11:00 pm
Fri, Sat: 12:00 pm - 12:00 am
Sun: 12:00 pm - 11:00 pm