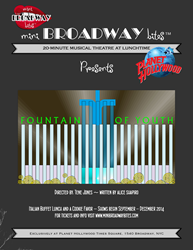 (PRWEB) September 08, 2014
Patrons of Planet Hollywood Times Square can now have lunch and watch "Fountain of Youth," a unique 20-minute film of this musical, by Poet Alice Shapiro, on the big screen. Fountain of Youth -- one of the chapters in the 10-play series produced by mini BROADWAY bites -- is about two friends that get sidetracked helping an old woman face reality. The entire series of plays portrays these two friends traveling through various adventures as they attempt to find their way back home, in settings that are both real and imaginary. A spectacular way to spend lunchtime in New York, shows are twenty minutes long plus time for eating, so tourists can squeeze yet one more show into their itinerary. "Fountain of Youth" is exclusively at the Planet Hollywood Times Square's SCREENING ROOM located at 1540 Broadway (entrance on 45th St. between Broadway & 6th) NYC starting September 5 through after Christmas 2014. Tickets and show times can be found at http://www.minibroadwaybites.com.
Alice Shapiro is Poet Laureate of Douglasville, Georgia and an award-winning playwright. She is author of four books with one forthcoming by TotalRecall Press. She enjoys walks and charitable activities. Shapiro is a proud member of the Dramatists Guild and was featured in the Mar/Apr 2014 issue of The Dramatist magazine.
TotalRecall Publications Inc. was founded in 1998 by Bruce Moran, a former NASA IT professional who transitioned into computer instruction and educational materials. The company began with the introduction of study guides and Q&A testing software for various computer and financial certification exams and expanded into library and information science textbooks in 2007. Since 2008, the publisher has been developing a fiction product line by debut authors that focuses on mysteries, thrillers, and military action. Additionally, TotalRecall has expanded into general nonfiction and now publishes more than 200 non-fiction and fiction titles, all distributed worldwide through book retailers and wholesalers and via eBook databases such as Proquest, EBSCO, and Books24x7.com.