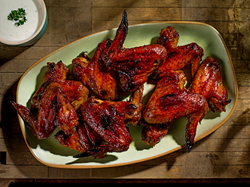 Celebrate Oklahoma football season with Made in Oklahoma recipes.
Oklahoma (PRWEB) September 01, 2014
Football season is upon us, and what better way to commemorate the start of Oklahoma's season than with Made in Oklahoma Coalition recipes. Tailgate with your friends and family while feasting on finger-licking Hot-Honey Chicken Wings, mouthwatering Watermelon Salsa, and Crispy Cornbread Onion Rings.
The Made in Oklahoma Coalition recipes offer delicious dining ideas while promoting the brands manufactured in the state. For these unique recipes, M.I.O. has partnered five Oklahoma-based member companies to help prepare this family meal: Shawnee Mills, Andrew's Honey Bees, Hiland Dairy, Seikel's, and Suan's.
Hot-Honey Chicken Wings
3 pounds fresh chicken wings
½ cup Andrew Honey Bees Cream Honey
¼ cup Hiland Unsalted Butter
¼ cup soy sauce
¼ cup brown sugar
2 teaspoons Seikel's Oklahoma Gold Old Style Mustard
¼ cup Suan's Scotch Bonnet Pepper Jelly
1. Preheat oven to 400 degrees.
2. Rinse chicken wings. Pat dry, and place on a rimmed baking sheet or jelly roll pan lined with parchment paper.
3. Combine remaining ingredients in small saucepan. Bring just to a boil, and then turn down heat to simmer for 5 minutes. Stir. Mixture should slightly thicken.
4. Pour half of sauce over wings, tossing to coat. Bake at 400 degrees for 30 minutes. Remove from oven, and turn wings. Bake an additional 15 minutes. If you like a crispy wing, turn on the broiler and broil just until crisp and golden brown, making sure not to burn.
5. Once out of the oven, pour remaining sauce over wings to coat. Serve warm.
Watermelon Salsa
3 cups finely diced seedless watermelon, (about 2 1/4 pounds with the rind)
2 jalapeno peppers, seeded and minced
⅓ cup chopped cilantro, (about 1/2 bunch)
⅓ cup chopped green bell pepper
⅓ cup chopped orange bell pepper
⅓ cup diced
¼ cup lime juice
¼ cup minced red onion
¼ teaspoon salt, or to taste
1. Place watermelon, jalapenos, cilantro, lime juice and onion in a medium bowl. Stir well to combine.
2. Season with salt. Serve at room temperature or chilled with tortilla chips.
Cornbread Onion Rings
3 yellow onions sliced ½ inch thick
1 pkg Shawnee Mills Buttermilk Cornbread Mix
1 cup flour
½ cup peanut oil
1. Cut onions in ½ inch thick rings. Soak onions in cold water for at least 10 minutes.
2. While soaking create the cornbread mix according to package directions.
3. Dip onion rings in flour and then into corn bread mix.
4. Add peanut oil to large skillet and turn to medium high heat and place onion rings in skillet and fry on both sides until golden brown.
The Made in Oklahoma Coalition provides a marketing and promotional platform to assist more than 45 current Oklahoma food manufacturers. M.I.O.'s marketing programs build brand preference and loyalty for member products. Coalition-member companies create a positive impact on the Oklahoma economy by helping put more than 27,000 people to work. These member companies generate over 3.5 billion in annual sales for Oklahoma. Collective and cross-marketing programs, organized by the coalition, increase sales throughout the state, nation and abroad. The M.I.O Coalition continues to expand the footprint of Oklahoma's food processing sector through business retention and stable growth. M.I.O., Good for Oklahoma. Good for you. For more information visit http://www.miocoalition.com.
###