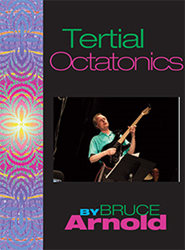 "…this is the first time that Tertial Octatonics have been written about in this way, and with this purpose, making it a ground-breaking release."
(PRWEB) August 31, 2014
While it is impossible to inculcate creativity itself, often a demystification of the possible approaches to creation can lead to freedom of thought followed by innovation. Bruce Arnold has spent the better part of his life writing books that successfully do this. His strength is in his ability to clarify and logically present information so that even complex topics are easier to understand --and apply.
Octatonic scales contain eight notes. Most musicians are familiar with the Octatonic scales commonly referred to as the Diminished and Symmetrical Diminished. But there are actually 29 Octatonic Scales and these scales are excellent alternatives for improvisation and composition when working over a Dominant 7th or Dominant 7sus4 key center. In "Tertial Octatonics" Arnold presents a systematic method for working through the 120 possible combinations of traditional 7th chords.
"Tertial Octatonics" contains all the possible combinations of two seventh chord arpeggios to create an Octatonic Scale. It also provides exercises to apply these arpeggios as well as information on the origin of each Octatonic scale. The book which is available only as a digital download also contains (1) all tetrad combinations that form an Octatonic Scale using 11 common 7th chords, (2) tips on how to hear and practice the scales, (3) suggestions on how to apply these structures to one's own music, to produce a modern, personal sound.
It is worth mentioning that although these structures are not new, this is the first time that Tertial Octatonics have been written about in this way, and with this purpose, making it a ground-breaking release.