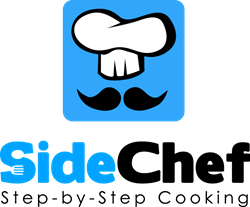 We want to inspire non-cooks to get into the kitchen and novice cooks to try something new with this month's new recipes, cooking techniques and events.
Los Angeles, CA (PRWEB) September 02, 2014
SideChef kicks off Learn to Cook Month in September to help cooks of all levels achieve confidence in the kitchen. SideChef, the step-by-step voice-activated cooking app, will promote eight simple and motivating recipes, six fundamental cooking methods and two fun-filled events and offer expert cooking tips and prizes to users throughout the month.
"We want people to use SideChef to truly explore cooking, join the community and realize that cooking really is for everyone," says SideChef CEO and founder Kevin Yu. "We want to inspire non-cooks to get into the kitchen and novice cooks to try something new with this month's new recipes, cooking techniques and events."
Over the course of four weeks, SideChef will post two recipes per week on Mondays and Thursdays, with one slightly easier recipe for weekday cooking and a more complex recipe for the weekend. The tips and tricks will feature foodie bloggers and SideChef's culinary industry partners offering advice, covering topics such as knife skills, spices and herbs, shopping for and storing different perishable ingredients, and substitutions for special diets.
SideChef bloggers include Feed Me Phoebe, Hapa Nom Nom, Just Jan's, Domesticate Me, Pip & Ebby, Fork vs. Spoon, Margaret's Dish, Girl Eats Greens, The Curious Fig and The General Review.
SideChef will partner with Lodge, HelloFresh and The Gourmandise School of Cooking who will offer exclusive recipes and cooking tips to SideChef users and giveaway prizes geared toward cooks. Highlights include Lodge's tips to care for cast iron in the kitchen, two exclusive recipes from their new cookbook Lodge Caste Iron Nation and a giveaway of two of their classic cast iron skillets.
SideChef will be running three giveaways, the first with a grand prize of a Whole Foods $300 gift card. In addition to Lodge's items, other giveaways will include HelloFresh and Love With Food boxes. SideChef users must authenticate their entry by following the various steps on social media as listed on SideChef's Learn to Cook Month website.
Throughout the month, SideChef will also interact with their users through Taste Talks in Brooklyn and Social Media Week.
SideChef is currently available for iOS devices and the Android version will be released in November 2014.
About SideChef
SideChef is a step-by-step cooking app designed to bring innovative technology to the world of cooking. By displaying detailed photography and written instructions for every step in a recipe, users can cook with confidence to prepare over 1,000 recipes from more than 100 food bloggers worldwide. The recipes cover diverse cuisines and cater to many special diets including gluten-free, vegan and low-fat. SideChef connects cooks of all levels based on their shared passion. Launched in March 2014, SideChef is a Los Angeles-based company founded by Kevin Yu, video game industry veteran and former global manager for community development for World of Warcraft at Blizzard Entertainment. Yu applied his extensive technology and gaming background to enhance the cooking experience for novice cooks. For more information, please visit http://www.SideChef.com.