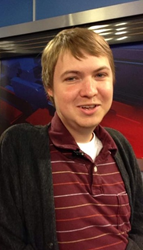 Wichita, KS (PRWEB) September 10, 2014
Ryan Benton, a 28 year-old Duchenne's muscular dystrophy patient from Wichita, Kansas, received his first umbilical cord tissue-derived mesenchymal stem cell treatment yesterday following US FDA approval of his doctor's application for a single patient, investigational new drug (IND) for compassionate use.
Duchenne muscular dystrophy (DMD) is a rapidly progressive form of muscular dystrophy that occurs primarily in boys. It is caused by an alteration (mutation) in a gene, called the DMD gene, which causes the muscles to stop producing the protein dystrophin. Individuals who have DMD experience progressive loss of muscle function and weakness, which begins in the lower limbs and leads to progressively worsening disability. Death usually occurs by age 25, typically from lung disorders. There is no known cure for DMD.
This trial, officially entitled "Allogeneic transplantation of human umbilical cord mesenchymal stem cells (UC-MSC) for a single male patient with Duchenne Muscular Dystrophy (DMD)" marks the first time the FDA has approved an investigational allogeneic stem cell treatment for Duchenne's in the United States.
Ryan received his first intramuscular stem cell injections from allergy and immunology specialist, Van Strickland, M.D at Asthma and Allergy Specialists in Wichita, Kansas. He will receive 3 more treatments this week on consecutive days. Dr. Strickland will administer similar courses to Ryan every 6 months for a total of 3 years.
This is not the first time Ryan has undergone umbilical cord mesenchymal stem cell therapy. Since 2009, Ryan has been traveling to the Stem Cell Institute in Panama for similar treatments. Encouraging results from these treatments prompted Dr. Strickland to seek out a way to treat Ryan in the United States.
The stem cell technology being utilized in this trial was developed by renowned stem cell scientist Neil H. Riordan, PhD. Dr. Riordan is the founder and president of the Stem Cell Institute in Panama City, Panama and Medistem Panama. Medistem Panama is providing cell harvesting and banking services for their US-based cGMP laboratory partner.
Funding for this trial is being provided by the Aidan Foundation, a non-profit organization founded by Dr. Riordan in 2004 to provide financial assistance for alternative therapies to people like Ryan.
About Van Strickland, MD
Dr. Strickland came to Wichita in 1979 from his fellowship at the National Jewish Hospital in Denver. Since then he has spent one year in Wyoming, one year in Dallas, Texas and one year in Lee's Summit Missouri before returning to full-time practice in Wichita, Kansas.
Dr. Strickland has been a clinical faculty member at The University of Kansas School of Medicine in Wichita in the department of Pediatrics and later in the department of internal medicine for most of his years in Wichita.
Dr. Strickland is certified by the American Board of Allergy and Immunology and the American Board of Pediatrics. He graduated from Baylor College of Medicine in Houston, Texas and served a full residency in Pediatrics at Baylor and a fellowship in Allergy and Immunology in Denver at National Jewish. He has trained in allergy and immunology at the University of Texas School of Medicine in Galveston as an elective while at Baylor and was a student on the team with Mary Ann South, MD and John Montgomery, MD who put baby David in the Bubble (Bubble Boy).
Dr. Strickland is a fellow of The American Academy of Allergy, Asthma and Immunology, The American College of Allergy, Asthma and Immunology, The American Association of Certified Allergists, The American Academy of Pediatrics, and The American College of Physicians. Dr Strickland has been recognized in the "Top Doctors in Wichita" listing several times.
Allergy & Asthma Consultants
MHV Strickland M.D.
10021 W. 21st St. Wichita, KS 67205
Phone: +1 (316) 722-4800
Toll-free: +1 (800) 347-4800
Fax: +1 (316) 722-5117
Web Site: http://www.stricklandallergy.com
About Neil Riordan, PhD
Neil Riordan PhD is the co-founder of the Riordan-McKenna Institute, a regenerative orthopedics clinic that will open its doors in Southlake, Texas in late 2014. RMI will offer non-surgical stem cell treatments and stem cell enhanced surgeries for orthopedic conditions. He is the founder and chairman of Medistem Panama, Inc., (MPI) a leading stem cell laboratory and research facility located in the Technology Park at the prestigious City of Knowledge in Panama City, Panama. Founded in 2007, MPI stands at the forefront of applied research on adult stem cells for several chronic diseases. MPI's stem cell laboratory is ISO 9001 certified and fully licensed by the Panamanian Ministry of Health. Dr. Riordan is the founder of Stem Cell Institute (SCI) in Panama City, Panama (est. 2007).
Under the umbrella of MPI subsidiary Translational Biosciences, MPI and SCI are currently conducting seven IRB-approved clinical trials in Panama for autism, multiple sclerosis, rheumatoid arthritis and osteoarthritis using human umbilical cord-derived mesenchymal stem cells, mesenchymal trophic factors and stromal vascular fraction. Additional trials for spinal cord injury, and cerebral palsy are scheduled to commence in late 2014 upon IRB approval.
Dr. Riordan's research team collaborates with a number of universities and institutions, including National Institutes of Health, Indiana University, University of California, San Diego, University of Utah, University of Western Ontario, and University of Nebraska.
Dr. Riordan has published over 60 scientific articles in international peer-reviewed journals and authored two book chapters on the use of non-controversial stem cells from placenta and umbilical cord. He is listed on more the 25 patent families, including 11 issued patents including a 2010 patent for a new cellular cancer vaccine.
In 2007, Dr. Riordan's research team was the first to discover and document the existence of mesenchymal-like stem cells in menstrual blood. For this discovery, his team was honored with the "Medical Article of the Year Award" from Biomed Central.
Neil Riordan, PhD
Riordan-McKenna Institute
801 E. Southlake Bivd.
Southlake, TX 76092
Phone: +1 (817) 776-8155
Fax: +1 (817) 776-8154
Website: http://www.rmiclinic.com