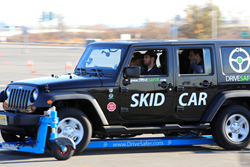 Unfortunately, teens usually get this type of experience through on-the-job training. Once they finish panicking...they have to guess at what to do. That's insane!
Camden, New Jersey (PRWEB) August 31, 2014
According to the Centers for Disease Control and Prevention, the leading cause of death for those 15-24 is motor vehicle crashes. An AAA analysis revealed August is the deadliest month.
So what's a concerned parent to do when the time comes for their child to get behind the wheel?
Drive Safer, a New Jersey company devoted to improving safety among young drivers, thinks it has the answer. Hosting car control and defensive driving "boot camps" throughout the region, Drive Safer puts teens behind the wheel with certified high performance driving experts as instructors. Call it drivers ed on steroids.
Drive Safer's inaugural South Jersey Boot Camp is Sept. 21 at Susquehanna Bank Center on the Camden waterfront. Since it qualifies as a state-approved defensive driving course, participants will earn discounts off their car insurance for three years (percentages vary with the insurer) and can expunge two points from their record.
"Understanding the rules of the road is critical, but so is safely and properly controlling your vehicle. These skills can only be learned through experience," says Mike Kellenyi, a Drive Safer instructor and founder of People Against Distracted Driving (PADD). "Our goal is to give young drivers the experience they need to avoid becoming another tragic statistic."
Kellenyi has a vested interest. In 2012, his 18-year-old daughter Nikki was killed when the Dodge Neon in which she was a backseat passenger was struck by another vehicle that had run two stop signs.
Drive Safer's six-hour course is comprised of classroom instruction and hands-on driving experience. The behind-the-wheel instruction covers essential car control skills, panic braking, hazard avoidance, safe following distances, and skid control/recovery, among other skills. The classroom portion includes everything from statistics and the danger of distracted driving, to vehicle control and using peripheral vision.
"The answer to saving the lives of young drivers from car vehicle crashes is to help them gain experience. We put them in simulated dangerous conditions and help them learn and practice what to do when things don't go as planned," says Jason Friedman, Drive Safer's CEO. "Unfortunately, teens usually get this type of experience through on-the-job training, when they're on their own and find themselves in a bad spot. Once they finish panicking, if there's time left to react, they have to guess at what to do. That's insane!"
The Camden Drive Safer course begins at 9 a.m. on Sept. 21. The course is open to any licensed or permit driver, and a parent or guardian must attend if the student is under 18. Parents are welcome to participate in the classroom instruction. Early bird registration (by Sept. 15) is $200. After Sept. 15, fee is $250, or $299 if paid on-site. To register, visit http://www.drivesafer.com or call (201) 485-7792.
About Drive Safer
Drive Safer provides the premier car control and defensive driving courses in the U.S., preparing students to control their vehicles in the face of real-world distractions and dangers that take thousands of lives annually. Drive Safer's certified high performance driving instructors provide hands-on training ensuring that students know how to handle and avoid hazardous behind the wheel situations. Drive Safer also partners with high schools to provide in-classroom workshops and presentations and has a fundraising program which donates a percentage of registration fees back to partner schools. For more information on Drive Safer, including courses, dates, locations and fundraising programs, please visit http://www.drivesafer.com.