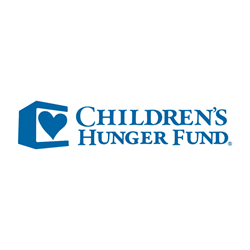 'Each one gave from the little they had and will make a huge impact in the lives of suffering children,' says Dave Phillips, Founder and President of Children's Hunger Fund.
Los Angeles, CA (PRWEB) August 30, 2014
For the first time, international charity Children's Hunger Fund joined with vacation bible school (VBS) curriculum publisher Answers VBS to collect meals for suffering children. Kids attending VBS programs across the country united, collecting enough change to supply 485,119 meals for hungry children through the charity's outreaches.
While the fundraiser, held at 283 churches in 42 states, was expected to be successful, Children's Hunger Fund was surprised by how popular it turned out to be.
"We knew that kids would be excited to help other kids," said Children's Hunger Fund President Dave Phillips, "but we weren't expecting to hear from so many, and with such enthusiasm for our cause. Each one gave from the little they had and will make a huge impact in the lives of suffering children."
Parents and church leaders reported that many kids were emotionally touched by the stories of children suffering in other countries, and they were moved to work hard to help.
"The parents told us how moved their kids were to hear that there were children around the world who don't have food to eat," said Laurie Newby, Director of Children's Ministry at Trinity Bible Church in Richardson, Texas. "We're so privileged here and so to think that 25¢ could actually provide a meal for a child just blew them away. So we had tons of kids just going into their own piggy banks and getting out their own money to give."
The fundraiser, entitled "Mission: Deliver Hope," corresponded with Answers VBS's spy themed curriculum and encouraged children at each weeklong VBS event to collect quarters from family, friends, and their own piggy banks to help children less fortunate than themselves.
Each twenty-five cent donation (currently being tracked publicly at ChildrensHungerFund.org/MissionDH) will be used to provide one meal for a child through Children's Hunger Fund's flagship Food Pak program. Food Paks are delivered to the homes of families in poor communities around the world, as well as here in the U.S.
Steve Ham, the Senior Director of Outreach at Answers in Genesis, the parent publisher of Answers VBS curriculum, is enthused by the success of the fundraising program. "This is creation evangelism in action," said Ham. "So far, our partnership with Children's Hunger Fund has resulted in almost 500,000 meals being provided for needy children in diverse locations throughout the world! Just think of these interactions as many families will be receiving much needed help through the local church bringing food parcels and messages of hope."
Work is already underway for next year's VBS season. Answers VBS 2014 curriculum is titled "Camp Kilimanjaro" featuring an African theme, which focuses on the wisdom found in the book of Proverbs. Funds raised in 2014 will provide meals for children being served through Children's Hunger Fund's work in Ghana, Uganda, Rwanda, and Zimbabwe.
# # #
Children's Hunger Fund has committed itself to gospel-centered mercy ministry for over twenty years. In all, CHF has distributed more than 1 billion dollars in food and other resources, serving the needs of more than 20 million children throughout the U.S. and in seventy-two countries worldwide. Since 1991, 99% of CHF's total revenue has been used for programs helping kids. More information can be found at ChildrensHungerFund.org.
Answers VBS produces a yearly Vacation Bible School program that is both evangelistic and apologetic. The mission of every program is to provide top-quality materials that teach kids the Bible is true and that Jesus is the only way of salvation. Each summer since 2008, hundreds of thousands of children have been given the foundation they need for a life-long faith. For more information, visit AnswersVBS.com.