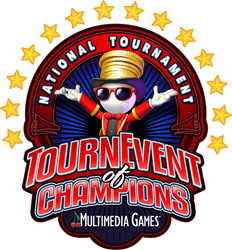 Austin, Texas (PRWEB) September 02, 2014
Multimedia Games (Nasdaq:MGAM) is hosting the National TournEvent of Champions in collaboration with casinos across the country to crown the nation's best slot tournament player. Through the first weekend of August, 78 finalists, representing 69 casinos have qualified to compete for the national title at the Wynn's XS Nightclub in Las Vegas on October 1, 2014. Qualifying rounds will continue through September with a total of 123 slot players competing for the National Championship and a grand prize of $200,000.
The first 40 qualifiers were announced in July. The latest group of summer qualifiers include:

Alejandro Garcia, Brawley, Calif., Red Earth Casino
Wanda Bolden, Tulsa, Okla., Osage Casino Tulsa
Nita Baker, Ponca City, Okla., Osage Casino Ponca City
Jerry Prewitt, Sand Springs, Okla., Osage Casino Sand Springs
John Earl White, Jr., Carlsbad, Calif., Casino Pauma
Michael Turner, Plano, Texas, Choctaw Casino Durant
Sandra Jean Skaggs, Palm Desert, Calif., Agua Caliente Casino Resort & Spa
Darcy McBurney, Topeka, Kansas, Prairie Band Casino
Lisa Pluard, Port Angeles, Wash., Elwha River Casino
John Paul Gentry, Newton, Texas, Coushatta Casino Resort
Philip Henson, Muldrow, Okla., Choctaw Casino Pocola
Shelley Snodgrass, Bremerton, Wash., Suquamish Clearwater Casino Resort
Paula Gibson, Paris, Texas, Choctaw Casino Grant
Michael Fitzgerald, Luther, Okla., Ioway Casino
Robert Lucas, Jr., Oklahoma City, Okla., Newcastle Casino
Paulette Gua, Omak, Wash., Okanogan Bingo Casino
Diana Seymour, Electric City, Wash., Okanogan Bingo Casino
Lisa Magnuson, Kansas City, Kansas, 7th Street Casino
Shanne LaVerne Shaw, Lake Stevens, Wash., Angel of the Winds Casino
Dawn Bruton, Roy, Wash., Lucky Eagle Casino
Shann Undernehr, Tulsa, Okla., River Spirit Casino
Stella Arguijo, Pleasanton, Texas, Kickapoo Lucky Eagle Casino
Robert Cox, Perkins, Okla., Cimarron Casino
Linda Palmer, Port Coquitlam, British Columbia, Silver Reef Casino Hotel
Carrie Faller, Edmond, Okla., Remington Park Racing & Casino
Norma Pirkle, Luther, Okla., Kickapoo Casino
Steven Schmele, Federal Way, Wash., Muckleshoot Bingo
Vincent Olmsted, Bonney Lake, Wash., Muckleshoot Casino
Demosthenes Agpoon Yoo, Pomona, Calif., Valley View Casino & Hotel
Annie Inchoco Allen, Escondido, Calif., Valley View Casino & Hotel
James Kean, Yakima, Wash., Yakama Legends Casino
Cindy Thompson, Sunnyside, Wash., Yakama Legends Casino
Jestin McEachran, Maple Grove, Minn., Mystic Lake Casino Hotel
Avis Shackelford, Montgomery, Ala., Creek Casino Montgomery
Audrey White, Ephrata, Wash., Mill Bay Casino
Rita Wineinger, Manson, Wash., Mill Bay Casino
Charles Reed, Bloomington, Minn., Little Six Casino
Jacqueline Simon, Holly Springs, Miss., Hollywood Casino Tunica
"It's been an exciting summer of qualifying so far," said Multimedia Games CEO Patrick Ramsey. "The National Championship is just around the corner, and we have a terrific group of players who have earned their trip to the finals in Las Vegas."
The National TournEvent of Champions takes slot tournaments to a whole new level. Two TournEvent of Champions buses are crisscrossing the country from April-September, through 22 states with more than 250,000 players competing for the chance to represent their casino in Las Vegas. Casinos are hosting slot leagues, semi-finals and then in-casino finals to find the top player to represent them at the National Championship.
Of the 78 qualifiers thus far, there are 44 women and 34 men. They range in age from 22-92 and cover a wide spectrum of backgrounds — from real estate agents to entrepreneurs, and military veterans to government workers. Many of the qualifiers are enjoying the golden years of retirement, and two even hail from the Great White North, Canada.
National TournEvent of Champions began in 2012 with regional competitions in California and Washington. The event crowned its first national champion in 2013 after 88 players from 77 casinos competed in the finals at Lagasse's Stadium at The Palazzo in Las Vegas. The 2014 event is even bigger with 123 players from 103 casinos and a total purse of $500,000 — double the 2013 purse. The National TournEvent of Champions tour buses are sponsored by Strictly Slots, APSM Systems, Effinet, Bensussen Deutsch & Associates, e-gads!, Andover Audio, Quixant, Sequel Data Systems, Unistar-Sparco Computers, Sunkist Graphics and VSR Industries.
About Multimedia Games Holding Company, Inc.
Through its wholly owned subsidiary, Multimedia Games, Inc., Multimedia Games Holding Company, Inc. ("Multimedia Games") develops and distributes gaming technology. The company is a creator and supplier of comprehensive systems, content and electronic gaming units for Native American and commercial casinos. Revenue is derived from gaming units in operation on revenue-sharing arrangements as well as from the sale of gaming units and systems that feature proprietary game content and game themes licensed from others. Multimedia Games also supplies the central determinant system for the video lottery terminals ("VLTs") installed at racetracks in the State of New York. The company was recently listed as one of Fortune's 100 Fastest-Growing Companies of 2014. Please visit http://www.multimediagames.com, twitter.com/MultimediaGames or facebook.com/MultimediaGames, where Multimedia Games discloses important information about the company, its sales, and its business.
About the National TournEvent of Champions
The National TournEvent of Champions is a collaboration between Multimedia Games and top casinos across the country to bring unprecedented competition, intensity and glory to the casino floor through a national slot tournament, crowning the only Slot Tournament National Champion. The first National TournEvent of Champions took place in 2013 with 88 players, representing 77 casinos competing for the national title and $100,000 grand prize. The 2014 National TournEvent of Champions finals will host 123 players, representing 103 casinos for a chance at $500,000 in total prize money, including a National Champion's share of $200,000.