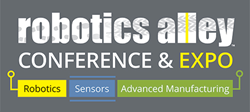 Minneapolis, MN (PRWEB) August 29, 2014
The Robotics Alley Conference & Expo, in partnership with the Minnesota High Tech Association, has named its 2014 STEM scholarship award winner.
Congratulations to this year's recipient, Tien Do, who will receive $5,000 to pursue his degree. Tien will graduate from the University of Minnesota in June 2015 with a bachelor of science and engineering in electrical engineering and mathematics.
Since his junior year, Tien has taken graduate-level courses focused on robotics orientation. In January 2014, he also began working as an undergraduate research assistant for the Multiple Autonomous Robotic Systems (MARS) Laboratory at the University of Minnesota, where he focuses on solving navigation problems. After completing his undergraduate degree he plans to pursue a Ph.D. in robotics. Specifically, he is interested in mobile robots with optimal control and estimation problems.
Robotics Alley has made a commitment to supporting education through its scholarship partnership with MHTA. This year's conference takes place September 16-17 at the Minneapolis Marriott Northwest, where Tien Do will be formally recognized. For more information or to register, go to roboticsalley.org.