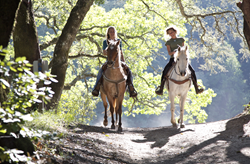 2014 Best Tennessee Lake Community of the Year
Knoxville, TN (PRWEB) August 30, 2014
Tony & Pascale White of Knoxville, Tennessee formally announced their purchase of the Rarity Bay Equestrian Center – now known as White Stables. The attractive equestrian center at Rarity Bay on Tellico Lake will be managed by Irvine Training, a multidiscipline training program owned by trainer, Tyler Irvine, and his fiancée, Kari Hester. Irvine Training will offer riding lessons, competition preparation, and horse training at the facility, and plans on bringing horse shows back to the equestrian center during the 2015 season. Although Irvine specializes in Arabian and Half-Arabian show horses, he trains horses of all breeds, and has successfully trained and competed in the gaited, flat-shod racking, and sport horse disciplines.
White Stables and Irvine Training share the same goals… "To enhance the lives of people through horse-related activities, to promote community awareness, involvement, and support of the equine industry, to support humane treatment of horses worldwide, to inspire excellence with a commitment to quality instruction and superior training," etc. Furthermore, as a member of the United States Equestrian Federation, Irvine Training at White Stables abides by all USEF rules and regulations.
The prospective owners and managers of the facility have a number of improvements ready to take place upon closing of the Rarity Bay Equestrian Center, including enclosing and covering the round pen, improving the footing of the 175 x 275 riding arena, structural improvements to the barn, and adding more stalls. Their future goals for the property include covering a portion of the arena, the addition of more stalls, another tack room, and sectioning off an area for an outdoor arena. They also plan on having a number of Tellico Lake community events from pony rides to educational seminars about equine nutrition, show horse investment, and more.
White Stables and Irvine Training look forward to becoming a part of the Vonore community and are very excited about this upcoming venture. They welcome visitors to take a tour of the facility anytime. For more information regarding lessons, boarding, training, or horse shows, contact (865) 318-6178 or visit Irvine Training's website, irvinetraining.net.
The White Stables facility is located at the entrance of Rarity Bay, an award winning gated Tellico Lake community with approximately 450 homes built to date.
Take a peek at Rarity Bay homes.
Rarity Bay was named Real Estate Scorecard's 2014 BLISS AWARD winner for BEST TENNESSEE COMMUNITY OF THE YEAR. Amenities include:
24 Hour Manned Gated Entrance
18 Hole Championship Golf Course designed by D.J.VeVictor and Peter Langham
Golf Clubhouse with Dining
Outdoor Swimming Pool
Tennis Courts
Equestrian Center
Walking Trails
Dog Park
According to Real Estate Scorecard, master-planned communities in Eastern Tennessee with equestrian amenities are rarity.
To tour Rarity Bay and White Stables, call Karen Millikan direct at On the Lake Realty 423.519.3258 ext 1.
About Real Estate Scorecard:
Real Estate Scorecard writes unbiased real estate reviews providing in-depth information about popular gated communities in Florida, Georgia, North Carolina, South Carolina and Tennessee, all in an effort to help people discover where to retire in the Southeast.
Website: http://realestatescorecard.com