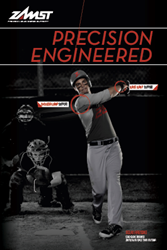 "Being a professional athlete, taking care my body is a top priority," said Arenado.
Irvine, CA (PRWEB) September 02, 2014
ZAMST, a leader in high-performance sports prevention/protective equipment, announced today a worldwide endorsement deal with professional baseball star Nolan Arenado. Widely considered to be one of today's best young baseball players, Arenado will be working with Zamst to continue their growth within the baseball specific product category.
Arenado was selected by Colorado in the second round of the 2009 draft, #59 overall. In 2013, Arenado was awarded the Gold Glove, putting him among an elite class of previous winners within major league baseball.
"Nolan is a tremendous young talent whose has quickly risen to the top of his sport, and is a perfect ambassador for the Zamst brand," said Bryan Smeltzer, general manager of ZAMST US. "Our product line was created to assist elite baseball players like Nolan, stabilize their injuries or assure protection from injury, while providing them with both the physical and mental confidence to play without limitations. We look forward to working with Nolan, and watching him develop into one of baseball's premier 3rd baseman. Our Precision Engineered Support products protect and reinforce the elite athletes of the world, and we are proud to have Nolan on our team."
ZAMST is a premier bracing and support company that has been providing elite athletes across the world with prevention and injury solutions since 1992. With a heritage in the medical field, the company has created its product line through a rigorous development process, which includes in-depth consultation with doctors, trainers and elite athletes to ensure high performance functionality.
"Being a professional athlete, taking care my body is a top priority," said Arenado. "The targeted product line of ZAMST will allow me to continually perform at a high level through all the aches and pains of the baseball season. I consistently use products during the season that help keep me healthy and ready for game day."
During his 2013 Gold Glove season Arenado had a .267 battering average with a .405 slugging percentage. He started out the 2014 campaign strong, but suffered a setback with a broken finger, but is back on track with a .289 average, and .461 slugging percentage for 2014.
As part of the endorsement deal, Arenado will be used internationally for in-store, print and online marketing activities for ZAMST. Per company policy, terms of the agreement were not disclosed.
ZAMST
ZAMST is a market leading brand of sports protective equipment, and used by professionals athletes worldwide. ZAMST offers a full line of premium injury prevention and protection sports bracing and supports products, featuring anatomically correct designs, high performance materials and superior construction. ZAMST is a division of the NIPPON SIGMAX Co., Ltd (Tokyo, JAPAN) with privately-held, wholly owned subsidiary corporations, SIGMAX AMERICA (Newport Beach, CALIFORNIA), SIGMAX EUROPE (Annecy, FRANCE) and SIGMAX CHINA (Shanghai, PRC). For more information, call toll free 877-ZAMST-US (877-926-7887) or visit http://www.ZAMST.us.