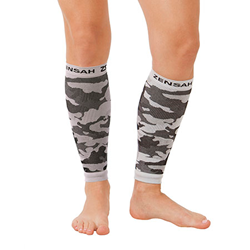 'Our leg sleeves have helped runners for years relieve shin splints, provide calf support, and help decrease muscle recovery time.'
Miami, FL (PRWEB) August 30, 2014
Zensah®, the leader in compression technology and comfort, has created a new Camo Compression Leg Sleeve. The camo sleeves are the first released as part of Zensah's® DeZign Compression Leg Sleeve collection. The camo line includes classic colors like army green and bold new hues like electric purple and magenta.
Known as tibial stress syndrome, shin splints cause dull aches and pains in the front side of the lower leg. Swollen and irritated muscles, stress fractures, or over pronation may also be one of the underlying problems causing shin splints. They can also be caused by overworking the legs. Shin splints are very common, and are the cause of about 13% of all running injuries. While shin splints are capable of healing on their own, it often takes an extended period of time, and can disrupt runner's race training. Zensah's Compression Leg Sleeves help speed up the recovery process to get runners back on track as soon as possible and can help prevent future injuries.
Zensah® was the first brand to offer compression sleeves in color and is again innovating with the DeZign collection. The Camo Leg Sleeves feature compression technology to provide muscle stabilization and help alleviate shin splints. The leg sleeves also help relieve calf cramping and decrease muscle recovery time – all through improving blood circulation.
Parker Robinson, Zensah spokesperson, says "Zensah has long been known as the leader in compression. Our leg sleeves have helped runners for years relieve shin splints, provide calf support, and help decrease muscle recovery time. We innovated several years ago by bringing bright colors to the world of compression. We have done it again with our new, stylish camo patterns."
About Zensah: Zensah® is a Miami-based company, specializing in sports compression apparel. Their seamless compression products are praised by athletes and fitness enthusiasts, including runners, cyclists, and triathletes. Zensah® offers compression products for performance and recovery. According to Leisure Trends Group Specialty Running RetailTRAK™, Zensah® has the number one selling Compression Leg Sleeves in the US for Running Specialty.