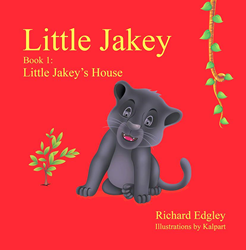 Join Jakey on his house-hunting adventure in this fun new children's book.
(PRWEB) September 05, 2014
As one of the great cats of the jungle, a panther should have an equally great place to call home. But what kind of house would suit a panther?
In this book "Little Jakey's House", the greatest black panther of all time, has ventured deep into the rainforest all alone in search of adventure and excitement. He wants to find a house he can call his own. Jakey's not looking for just any home; he is searching for the very best. When Jakey finds the perfect place, he only needs to make a few minor improvements.
Join Jakey on his house-hunting adventure in the fun new children's book "Little Jakey's House". Now that he's settled into his new home, the next book in the series is Book 2: "Little Jakey Goes Swimming".
Watch the video on youtube at: https://www.youtube.com/watch?v=BFIq7vifb1g
About the Author
Richard Edgley grew up in United Kingdom on the outskirts of Chester. He has lived all over the world, working and travelling. This is the first book of a series.
Book Details
Genre: Juvenile Fiction / Animals / Big Cats
Author: Richard Edgley
Format: Paperback, 28 pages
Pub date: August 2014
"LITTLE JAKEY – BOOK 1: LITTLE JAKEY'S HOUSE" (ISBN: 978-1-62516-775-0) is now available for $12.50 and can be ordered through the publisher's website:
http://sbprabooks.com/RichardEdgley, Amazon's website, or the website of Barnes and Noble.
WHOLESALERS: This book is distributed by Ingram Books and other wholesale distributors. Contact your representative with the ISBN for purchase. Wholesale purchase for retailers, universities, libraries, and other organizations is also available through the publisher; please email bookorder(at)sbpra(dot)net.
Strategic Book Publishing and Rights Co, LLC