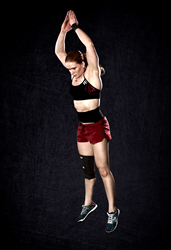 I am proud to again to be part of the Zamst Elite Team. - Thorisdottir
Irvine, CA (PRWEB) September 10, 2014
ZAMST, a leader in high-performance sports protective equipment, announced today a renewal of the current endorsement deal with Annie Thorisdottir, a two time World CrossFit Champion and the only woman to win back to back titles in 2011 and 2012.
"Annie is a world class athlete, and we are proud to have her continue her partnership with the Zamst team," said Bryan Smeltzer, GM, Zamst US "Seeing first hand the extreme amount of work Annie has put into her recovery this past year, and how ZAMST has been able to support her return to the CrossFit Games has been very rewarding. ZAMST sports bracing and supports products provide a superior level of protection and injury prevention, and aligning with world class, elite athletes like Annie who have dominated their sport allows us to demonstrate the superiority of our products."
Annie was born in Iceland, nicknamed "Iceland Annie", has dominated the Games in 2011 and 2012, becoming the only female two time "World CrossFit Champion", designating her as the "Most Fit Woman on Earth". This past year Annie recovered from a back injury taking her out of the 2013 CrossFit Games.
"CrossFit participation has exploded over the past several years, and we are proud to have Annie leading our Zamst brand in the CrossFit and Strength/Conditioning markets" said Bryan Smeltzer, GM Zamst, "Zamst is committed to providing specific solutions to athletes bracing/support needs."
"I am proud to again to be part of the Zamst Elite Team," said Thorisdottir. "Both the Zamst product and team, have been critical to my recovery over the past year, and I look forward to continuing our partnership. Whether during competition or post workout recovery, Zamst has me covered."
ZAMST is a leading brand of sports support and protective equipment, used by professionals worldwide for over 20 years. ZAMST offers a full line of premium injury prevention and protection sports bracing and supports products. ZAMST is a division of the NIPPON SIGMAX Co., Ltd (Tokyo, JAPAN) with privately-held, wholly owned subsidiary corporations, SIGMAX AMERICA (Newport Beach, CALIFORNIA), SIGMAX EUROPE (Annecy, FRANCE), and SIGMAX CHINA (Shanghai, PRC). For more information, call toll free 877-ZAMST-US (877-926-7887) or visit http://www.zamst.us.