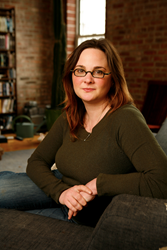 [Julie Powell] will offer critical insights to our students as they investigate literary expressions of sexuality and identity and respond to frank and outspoken work like hers
Santa Fe, NM (PRWEB) September 02, 2014
Santa Fe University of Art and Design (SFUAD) announced today that it will host author Julie Powell on campus Sept. 15–17. Powell, best known for writing the blog and bestselling memoir that inspired the film Julie & Julia, will visit classes within the Creative Writing and Literature Department, host a public reading and Q&A, and introduce a special screening of Julie & Julia at The Screen.
"The Creative Writing and Literature Department is pleased to welcome Julie Powell not only as a bestselling memoirist, but also as a writer who made a successful transition from blog-based digital publishing to traditional print publishing, appearances on television, and adaptation for film," said James Reich, contributing faculty member in SFUAD's Creative Writing and Literature Department. "She will offer critical insights to our students as they investigate literary expressions of sexuality and identity and respond to frank and outspoken work like hers. Julie's visit also shows our commitment to understanding literature in the wider context of its interrelation with film and popular culture, inside our department and beyond."
Powell thrust herself from obscurity to cyber-celebrityhood when, in 2002, she embarked on an ambitious yearlong cooking and blogging expedition through all 524 recipes in Julia Child's Mastering the Art of French Cooking. She detailed the experience in her critically acclaimed 2005 New York Times bestselling memoir, Julie & Julia: 365 Days, 524 Recipes, 1 Tiny Apartment Kitchen (Little, Brown and Company, 2005), which was adapted by Nora Ephron into a major motion picture starring Meryl Streep and Amy Adams and released in August 2009. Her second memoir, Cleaving (Little, Brown and Company, 2009), takes readers on an entirely different but equally obsessive soul-saving journey, this time through the world of butchery.
Powell will discuss both books during the public reading and Q&A on Tuesday, Sept. 16. She will also focus on moving from memoir writing to fiction writing.
Visiting Author Julie Powell
Julie & Julia Screening
Special introduction with Julie Powell
Monday, Sept. 15
7 p.m.
The Screen
Author Reading and Q&A
Tuesday, September 16
7 p.m.
O'Shaughnessy Performance Space, Benildus Hall
Powell has appeared as a guest on ABC's Good Morning America, CBS's The Early Show, The Martha Stewart Show and Food Network's Iron Chef America. Her writing has been published in numerous magazines and newspapers, including Bon Appétit, Food & Wine, Harper's Bazaar, The New York Times, The Washington Post, and more. A two-time James Beard Foundation Award winner in journalism, she won the first-ever Lulu Blooker Prize for Books and was awarded an honorary degree from Le Cordon Bleu culinary arts school in Paris.
About SFUAD's Creative Writing and Literature Department:
The Creative Writing and Literature Department at Santa Fe University of Art and Design enables students to learn from and grow along with a core of published, award-winning authors. Dedicated students polish their literary skills and discover the right forms for their unique voice, while taking advantage of numerous opportunities to conduct public readings, work collaboratively, and inspire and be inspired by their peers. Annually, the Creative Writing and Literature Department publishes a student-edited and student-produced literary journal, Glyph, featuring some of the university's best writing in creative nonfiction, fiction, poetry and screenwriting.
About Santa Fe University of Art and Design:
Santa Fe University of Art and Design is an accredited institution located in Santa Fe, New Mexico, one of the world's leading centers for art and design. The university offers degrees in arts management, contemporary music, creative writing, digital arts, graphic design, film, performing arts, photography and studio art. Faculty members are practicing artists who teach students in small groups, following a unique interdisciplinary curriculum that combines hands-on experience with core theory and prepares graduates to become well-rounded, creative, problem-solving professionals. As a Laureate International Universities Center of Excellence in Art, Architecture and Design, the university boasts an international student body and opportunities to study abroad, encouraging students to develop a global perspective on the arts. Santa Fe University of Art and Design is accredited by The Higher Learning Commission and a member of the North Central Association, http://www.ncahlc.org.