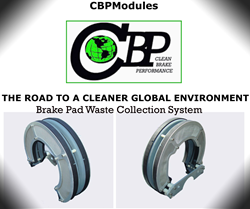 Initial independent laboratory test results show the CBPModule collects 92+% of the brake dust generated during a wide range of driving conditions
Riverside, California (PRWEB) August 31, 2014
Green technology new to the vehicle industry collects environmentally harmful disc brake dust at the source while improving the braking. http://www.cleanbrakeperformance.com
Problem: Millions of vehicles globally emit brake dust/debris constantly into the atmosphere when braking. Some ingredients in the friction materials (disc brake pads) are toxic to coral reefs and organisms in the nations' water systems. For example, copper impairs and prevents salmon from returning to their spawning grounds in Washington State.
California and Washington states passed legislation to regulate heavy metals, especially copper, in friction materials and other states are following the same pathway. Copper and other constituents must be reduced and essentially eliminated over the next 20 years. This technology offers an alternative to reformulation of the friction materials which is being pursued by the friction material industry.
Solution: The best way to remedy this situation is to stop the pollution at the source by collecting, recycling and/or disposing of the debris. This is management by prevention so that remediation of the environment isn't necessary. The use of harsh chemicals to clean and maintain vehicle wheel surfaces can be reduced significantly.
Brake Pad Waste Collection Systems, Inc. is commercializing a practical, globally- patented green technology new to the vehicle industry that has not been addressed previously. The Clean Brake Performance Module or CBPModule is patented in the United States. This technology was patented recently in Europe and Japan and is the world's first practical disc brake wear debris collection system which leads to a cleaner global environment and improved braking performance. The commercialization of this technology has enormous potential to create new green industries.
Brake Pad Waste Collection System, Inc., a California Corporation, was founded in 2007 to develop and commercialize the first practical friction material wear debris collection system. Steady progress continues to eliminate brake dust pollution from our global environment which is emanating from all types of vehicles. If you are interested in learning more about this new technology and exciting new opportunities or joining this effort, please feel free to contact one of the following:
Dr. Timothy Merkel, (540)664-9903, tfmerkel(at)brakepadwastecollection(dot)com
Mr. Richard Albano, (951) 973-8520, ralbano(at)brakepadwastecollection(dot)com
More specific information can be found at the following website: http://www.cleanbrakeperformance.com.