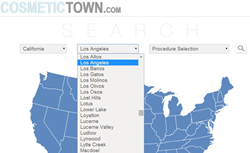 Los Angeles, CA (PRWEB) August 29, 2014
Cosmetic Town is a cosmetic beauty site that connects the industry's most notable plastic surgeons with prospective patients. The site showcases peer recommended doctors that write about cutting edge techniques in plastic and reconstructive surgery. Articles are fact checked to ensure they contain the most reliable information for general readers, who are looking to select the right cosmetic treatment.
Cosmetic Town began featuring renowned cosmetic specialists from Los Angeles, California but soon expanded its reach to other cities in California like San Francisco and San Diego. Cosmetic Town's goal has been to present the top cosmetic specialists in their respective areas.
In addition to featuring high quality articles from the nation's top doctors, Cosmetic Town presents photos and videos of results from its featured doctors that spotlight novel techniques in cosmetic treatments. Patients and doctors can also connect with each other using the site's community features and multimedia forum.
Cosmetic Town's comprehensive articles from its recommended doctors cover the full spectrum of what's trending in cosmetic treatments. The articles are written for prospective patients, who may be learning about these procedures for the first time. They are presented in a highly readable format and include information that is important to general readers, such as how to research potential doctors, and what to expect during the recovery period.
Cosmetic Town will become a primary source for finding out information about the most popular and innovative cosmetic treatments available, while providing the latest news on emerging practices that are changing the current landscape. Verified patient reviews give Cosmetic Town users even more confidence when researching potential doctors in their area. Cosmetic Town's editor explained the site's objective, "We are imposing these strict quality control standards in order to ensure that the site remains a trustworthy source for the latest cosmetic procedures and treatments."
About Cosmetic Town
Cosmetic Town is the only cosmetic industry site which authenticates both doctors and real patients. The site features doctors that have been carefully reviewed and endorsed by their peers making it easy for users to find the most qualified and highly recommended cosmetic doctors in their area. Users can also read about the latest news in plastic surgery, anti aging treatment, hair restoration, cosmetic dentistry, and facial and body modification at Cosmetic Town Journal.