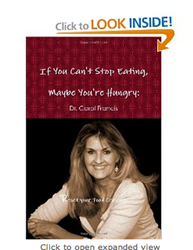 Weight Gain, Body Re-Shaping and Perplexing Fat plague women related to daily hormonnal fluctuations. Join Dr. Carol Francis with Dr. Maiysha Clairborne to find answers and solutions to the maddening battle.
Los Angeles (PRWEB) September 01, 2014
"Women struggle with weight gain typically associated to hormonal fluctuations. These hormonal daily changes begin as early as 15, if not earlier. Women therefore spend most of their lives negotiating the ups and downs of hormone related weight gain. The battle of skinny or thin or even healthy sizes seems to rage against the hidden and ever-present hormones which change daily. As a woman in her 40's begin to face menopause and related changes, these hormonal weight gain events are even more starkly evident. Many women feel desperately out of control of their new body's appearance, weight fluctuations and new body sizes," explains Dr. Carol Francis. Dr. Maiysha Clairborne on Dr. Carol Francis Talk Radio Show vaporizes the mystery of such changes and provides solutions to these hormonal weight gains. Dr. Maiysha Clairborne is the author of Eat Your Disease Away, and newly released, The Wellness Blueprint. Join us today live at 10:00AM or podcast at this link or for more information go to DrCarolFrancisTalkRadio.com.
Dr. Maiysha Clairborne is an integrative family physician, the founder of Mind Body Spirit Wellness Inc, and Associate Clinical Professor for Morehouse School of Medicine. She facilitates patients in achieving and maintaining physical, emotional, and spiritual well-being through her various wellness programs. American Board Certified in Family Medicine, Dr. Clairborne is the author of Eat Your Disease Away, and newly released The Wellness Blueprint, and has been featured as a wellness expert on several radio and television programs throughout the country including NBC40 Health Update, CW's Focus Atlanta, Rx for Life, and Fox 45 Baltimore's Health Segment. In addition to running a successful private practice, Dr. Clairborne is the medical director for four wellness clinics in both Georgia and Florida and is the host of the radio show, the Wellness Blueprint. Not only is Dr. Clairborne passionate about empowering wellness in individuals, but she is also committed to empowerment of the physician community for the healing of the doctor patient relationship.
Dr. Carol Francis is a Clinical Psychologist, Clinical Hypnotherapist, and author of Evolving Women's Consciousness: Dialogues with 21st Century Women as well as author of If You Can't Stop Eating, Maybe You're Hungry: Reset Your Cravings. Dr. Carol Francis has helped women for over 37 years overcome the uncertainties, angsts, frustrations of daily living and create lives they wanted to embrace. Dr. Carol Francis works in the Los Angeles area, and can be contacted at drcarolfrancis.com or 310-543-1824