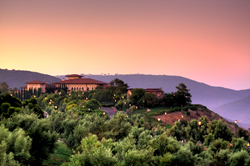 We hope that this conference will help empower students...
Aliso Viejo, CA. (PRWEB) September 24, 2014
In the idyllic, serene surroundings of Soka University of America (SUA) in Aliso Viejo, California, an initiative of major global significance will be launched this year by the University to provide a platform for dialogue on the culture of peace as an essential force that the humanity needs to embrace in the best interest of our planet. The inaugural "Dialogue on the Culture of Peace and Non-Violence" will be held on October 2 to coincide with the International Day of Non-Violence, proclaimed by the United Nations commemorating the birth anniversary of the apostle of non-violence, Mahatma Gandhi.
The Dialogue will seek to outline avenues and direction for incorporating the culture of peace and non-violence into all spheres of the educational experience. It is intended to be held every year as an independent, unbiased, non-partisan, intellectual forum. The event will take place in Soka's Athenaeum – a remarkable architecture named after the Temple of Athena where Socrates taught using questions and discussion.
Over the years, the Soka University has attained an enviable credibility as an institution focusing on value and integration of the culture of peace and non-violence as part of the educational experience that is available for the students in its liberal arts curriculum. With "global citizenship" as the core objective as highlighted in its mission statement as well as diversity of background and nationalities of the student and the faculty has made the SUA a highly respected forum for exchanges on key issues that are of relevance to the future of humanity and the progress of humankind.
The day-long Dialogue will be chaired by Ambassador Anwarul K. Chowdhury, Former Under-Secretary-General and High Representative of the United Nations. He will be joined by:

Cassandra Vieten, President and CEO of the Institute of Noetic Sciences and a scientist at the Mind-Body Medicine Research Group at California Pacific Medical Center Research Institute
Sandra de Castro Buffington, Founding Director, Center for Global Media and Social Impact, UCLA School of Public Health
Michael Nagler, Professor emeritus of Classics and Comparative Literature, UC, Berkeley, President and Founder, Metta Center for Nonviolence
Kevin Clements, Foundation Chair of Peace and Conflict Studies and Director of New Zealand National Centre for Peace and Conflict Studies, University of Otago, New Zealand; Chair, Toda Institute for Global Peace and Policy Research
Borislava Manojlovic, Director of Research Projects, School of Diplomacy and International Relations, Seton Hall University
Tetsushi Ogata, Lecturer, International and Area Academic Studies Program, UC Berkeley; SUA Alumni.
Azim Khamisa, Founder, Tariq Khamisa Foundation
Mikiko Otani, International human rights lawyer; lecturer at Graduate School of Law, Soka University, Japan
Philip Hellmich, Director of Peace, The Shift Networks
B. Jeannie Lum, Editor of Journal of Peace Education, University of Hawaii
Gail Thomas, Professor of Sociology, Soka University of America
Edward Feasel, Dean of Faculty and Professor of Economics, Soka University of America
Luis Nieves, President/CEO AUL Corporation; Founder, Luis and Linda Nieves Family Foundation
Bettina Hausmann, President UNA-USA San Diego Chapter
"We're very proud that Soka University is holding its first peace conference in cooperation with Ambassador Chowdhury," said SUA president Daniel Habuki. "Our mission is to foster a steady stream of global citizens committed to living a contributive life. Discussions on peace and non-violence are central to our core values. We hope that this conference will help empower students to face the challenges they will find as they work for peace in their communities and countries."
Soka University students will have an opportunity to sit in on the opening and closing sessions of the conference, which will provide a platform for exchanges on issues of peace and non-violence aimed at enhancing the quality and inclusivity of education.
Soka, a private, four-year liberal arts college and graduate school in Aliso Viejo, CA offers a 9:1 student/faculty ratio, average class size of 12, and study abroad for every undergraduate student (included in tuition.) Admitted students whose annual family income is $60,000 or less may be eligible for Soka Opportunity Scholarships which cover full tuition. Additional scholarship opportunities are available for higher income levels. About 60% of Soka University's students come from the US and 40% have come from more than 40 other countries. http://www.soka.edu
*******