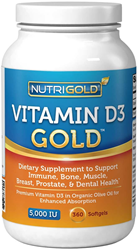 (PRWEB) August 31, 2014
An analysis of 32 studies compiled by University of California, San Diego researchers has revealed a link between lower levels of Vitamin D and a higher mortality rate. The study, published in the August 2014 issue of American Journal of Public Health, specifically assesses 25-Hydroxyvitamin D, the main form of Vitamin D found in blood.
Researchers found that study participants with levels of 25-Hydroxyvitamin D lower than 9 nanograms/milliliter (ng/mL) were twice as likely to die prematurely as those with levels above 50 ng/mL. About half of participants at risk of premature death had levels of 30 ng/ml. The compiled studies included 566,583 participants from around the world, with an average age of 55. According to the National Institute of Health, average blood levels of 25-Hydroxyvitamin D among Americans is 30 to 74 ng/mL.
The National Institute of Health recommends 600 International Units (IU) of Vitamin D daily for those between the ages of 1 and 70. Researchers believe this amount can be safely increased, as long as blood levels do not exceed 200 ng/mL. They also recommend that levels of 25-Hydroxyvitamin D be checked annually.
The body creates Vitamin D, an essential nutrient that helps build and maintain strong bones and teeth, when skin is exposed directly to the sun. Vitamin D is also taken in from food and supplements. NutriGold's Vitamin D3 Gold features Cholecalciferol from Lanolin, the only source of Vitamin D bioidentical to what the skin produces when it is exposed to sunlight, and is manufactured without the use of GMOs, additives, fillers, binders, artificial ingredients, preservatives, Stearates, Laurates, Sulfates, and Dioxides.
FREE SAMPLES
For free product samples of NutriGold supplements, please visit http://www.nutrigold.com/free-samples
ABOUT NUTRIGOLD
NutriGold is a science-based nutraceutical company committed to identifying, developing, and offering cutting-edge nutraceutical products. With a portfolio of best-in-class products at reasonable prices backed by unmatched service, NutriGold is not just raising the bar on quality, but is helping define the standards for the rest of the industry to follow and this is reflected in its:
+ Use of non-GMO, organic, whole-food, and clinically-proven ingredients
+ Uncompromising efforts to manufacture products without artificial ingredients, Stearates, Laurates, Sulfates, and Dioxides
+ Voluntary, extensive third party testing of all raw materials and finished products for identity, purity, potency, and safety
+ Resolute efforts to ensure that all products are free of contaminants, adulterants, allergens, and GMOs
+ Unwavering commitment to transparency, accountability, and truth in advertising
+ Initiatives to educate consumers so they can make informed decisions that affect their health
Website: nutrigold.com
Phone: 1-866-224-4680
Facebook: facebook.com/NutrigoldUSA
Google Plus: plus.google.com/+NutrigoldUSA
Twitter: twitter.com/Nutrigold_USA
FREE Product Samples: http://www.nutrigold.com/Free-Samples