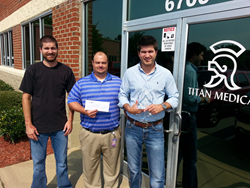 This was the most beautiful course I have ever played. We had a great time and raised a lot of money to fight youth addictions.
Jackson, Tenn. (PRWEB) August 30, 2014
Hundreds of people have come together to help young men throughout the region battle addictions at Youth Town, a residential alcohol and drug treatment facility. The 2014 Youth Town Golf Tournament, sponsored by Woodmen of the World and Tina Clark Allstate Insurance, built on an established history of success and raised $120,000. This year's event was the first one held at Spring Creek Ranch in Collierville, Tenn.
The team from Titan Medical (of Memphis) won the Youth Town Golf Classic with a score of 53. Kyle Kenyon, Chris Miller and Colby Kenyon (pictured) accepted a plaque and an all-expense paid trip to Gateway Golf and Country Club in Ft. Myers, Fla., in addition to $1,000 for travel expenses. Mike Roby, Youth Town Director of Development, presented the first-place prize at the Memphis business. In talking about the tournament, Miller said, "This was the most beautiful course I have ever played. We had a great time and raised a lot of money to fight youth addictions."
The Mid-South Horse Show Association donated proceeds from its 27th Annual Charity Horse Show to Youth Town with its July event. Hosting horses and riders from around the country, the event was held at Pugh Bourne Park in Jackson, Tenn. and provided more than $15,000 for the nonprofit.
The next event being planned by volunteers and staff is the annual Youth Town BBQ/Music Fest, which will be on Saturday, Oct. 4 from 10 a.m. to 2 p.m. at the Youth Town campus (3641 Youth Town Rd., Pinson, TN). Sponsored by Woodmen of the World, the annual, family-oriented festival includes music, food and games. Admission is free, and a car show, arts and crafts fair, music, championship barbeque competition, jumpers, climbing wall, hayride and children's games are part of the celebration.
One free hamburger or hot dog and drink will be served to each guest, and additional items may be purchased. Barbeque teams, vendors, volunteers and car show entries can register by contacting Mike Roby at 731-234-5642 or mroby(at)youthtown(dot)net. Dozens of people from the community will volunteer, including students from Freed-Hardeman University and the University of Memphis Lambuth and employees of Quality Metal Stamping in Henderson, Tenn.
Youth Town is a professional residential treatment center for substance dependence. Youth Town's goal is irreversible life change, and its program is gender responsive, adventure based and Christ centered. Young men from throughout region receive help at Youth Town. For more information, visit http://www.youthtown.net or call 731-988-5651.