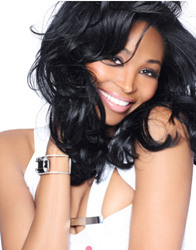 There's no doubt that Nana is a force to be reckoned with on and off the pageant stage.
Scotch Plains, NJ (PRWEB) August 30, 2014
Ms. Meriwether's striking beauty is not all that she has going for her. She certainly has an impressive resume to boost. Nana is best known for being crowned Donald Trump's Miss USA in 2012. However, she's also a two time All American UCLA volleyball player and a USC Pre-med Grad student. Nana trained for the 2008 Olympics and played professional volleyball as well. As per the official Miss USA website, "This six-foot beauty from Potomac, Maryland is a two-time, All American athlete; she captained UCLA Volleyball to the Final Four while breaking three NCAA records in the process. She graduated from UCLA with highest honors and a degree in Political Science and went on to complete pre-med studies at USC. In keeping with family tradition, Nana has taken both the MCAT's and LSAT's (Dad is a doctor and Mom is a lawyer); she is keeping her options open." She has also won the title of Miss California USA four consecutive years in a row (2008-2011) and Miss Maryland USA in 2012. There's no doubt that Nana is a force to be reckoned with on and off the pageant stage.
Nana was born in South Africa when her parents were doing volunteer work and was raised in Maryland. She shares her dedication to alleviating poverty and empowering communities in South Africa with her parents. They began the Meriwether Foundation in which they focus on "operating medical and healthcare clinics, sustaining HIV/AIDS orphanages, and establishing community and agricultural projects in rural Southern Africa. Further, in response to the dire need for education at all levels, we have founded schools ranging from preschool to a health science college". As per the Foundation's website, "The mission of the Meriwether Foundation is to improve health, empower communities, and alleviate poverty, with special emphasis on underserved rural and peri-urban areas of Southern Africa". Nana is a co-founder of the organization and continues to work towards the original goal of her parents when they began their efforts back in the 1980s.
NJ Top Dentists is so proud to feature such a beautiful person inside and out on their cover!
NJ Top Docs is a comprehensive information resource of Top Doctors, Dentists and Hospitals.
We are profiling over 900 Healthcare Providers and have made it convenient for you to find them.
NJ Top Docs allows patients to "meet" these providers online before making their appointment.
For more information, visit http://www.NJTopDocs.com.
You can also follow us on Facebook – Twitter – YouTube