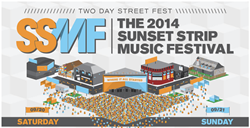 Viewers can catch the performances via SuretoneLive.com where it will be streamed from Cinsay's multi-patented Video Smart Store™ platform that can be shared with others on social sites like Facebook, tumblr, twitter and Google+
Austin, TX (PRWEB) September 19, 2014
The upcoming Sunset Strip Music Festival, live-streamed by Suretone Entertainment and powered by Cinsay, has added new musical talent and additional interviews and programming. This year's festival covers two full days of music from 3 different stages and 50+ hip hop, pop and alternative rock groups representing up-and-coming talent to huge musical acts. The free live feed will also include exclusive pre-show interviews and VIP access to back-stage happenings (see schedule below).
This is the first time in the festival's seven-year history that the event has been live-streamed and with attendance at the festival to reach as high as 15,000 people, the online expectations are for a huge global audience to tune in from the web via computers, tablets and smartphones.
Viewers can catch the performances via SuretoneLive.com where it will be streamed from Cinsay's multi-patented Video Smart Store™ platform that can be shared with others on social sites like Facebook, tumblr, twitter and Google+. The pre-show has been changed and is scheduled to begin online at 1:00 PM PST (3:00 PM CST) and will feature bands performances and interviews including KITTEN, who performed at Cinsay's R2RLive event during the 2013 SXSW along with exclusive video and contests.
Fans and artists alike have already taken to social media to post and share comments about the upcoming event. Tweets like, "Can't be at the festival but watching it live will be #JustLikeBeingThere #SSMF!" were some of the posts about the upcoming festival. "Psyched to play @SSMF with Jane's next week!" tweeted Dave Navarro. Viewers will also be able to submit questions to bands and artists on twitter to be answered during the live on-camera interviews.
The online event will feature HD video seamlessly bundled with social sharing and eCommerce. During the festival, SSMF's viewers will have special opportunities to purchase official apparel and collectible merchandise from the music festival and from the featured bands and artists as the acts perform inside the video stream. Leading up to the festival, music fans can purchase actual tickets to the event, which start at $49.50, as well as view previous clips and promotions on SureToneLive.com.
View the promo video, purchase tickets and artist merchandise to the festival now at http://www.SureToneLive.com/ssmf. News about additional artists and schedules can be found on the SureToneLive site and upcoming press releases as well as following the hash tags #SSMF and #SSMFonSureToneLive.
Below is the latest schedule of top-performing artists at the festival. Please visit the SuretoneLive.com site for the live-stream schedule updates:
Saturday, September 20:
Jane's Addiction
Failure
Cold War Kids
(Crosses)
Minus the Bear
Kaiser Chiefs
The Birds of Satan
Nightmare and the Cat
Beware of Darkness
Say Say
Sunday, September 21:
Empire of the Sun
Mayer Hawthorne
Iration
Big Data
Tove Lo
Big Freedia
We Came as Romans
Nostalghia
Fenech-Soler
Earlier this year, Cinsay and Suretone Entertainment announced the formation of SuretoneLive.com and the response to the partnership continues to be incredible as labels, entertainment companies, artists, fans and advertisers within the music industry seek to monetize their brands. Also, Cinsay's subsidiary, Cinsay On Demand, creates the quality branded apparel and merchandise featured on SuretoneLive.com and fulfills individual orders 'on demand' while handling the entire logistics of inventory, pick, pack, shipping and handling.
Details of SureToneLive.com Sunset Music Festival:
What: Sunset Strip Music Festival (SSMF)
When: Saturday and Sunday, September 20th & 21st
Where: Sunset Strip, The Whisky a Go-Go and live Pre-Show starting September 20th at 1:00 pm PST at SureToneLive.com
Hashtags: #SureToneLive #SSMF #SSMFonSuretoneLive