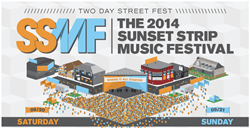 STL (SureToneLive) is leading the revolution of how music is distributed, monetized and consumed worldwide
Austin, TX (PRWEB) September 11, 2014
Suretone Entertainment announces an exclusive live HD stream of the Sunset Strip Music Festival via SureToneLive.com and powered by Cinsay. This year's festival covers two full days of music from 3 different stages and 50 exceptional groups representing up-and-coming talent to huge musical acts. The free live feed will also include exclusive pre-show interviews and VIP access to back-stage happenings. With over 20-hours of programming, there is something for every music fan.
Viewers can catch the performances via SuretoneLive.com streamed from Cinsay's multi-patented Video Smart Store™ platform that can be shared on social sites like Facebook, tumblr, twitter and Google+. The concept seamlessly combines the essentials of MTV, Pandora and official artist merchandise into one element that is accessed and syndicated on the web, tablet or smartphone.
SSMF is one of many events, which Cinsay and SureToneLive are broadcasting around the globe this year. Each online event will feature HD video seamlessly bundled with social sharing and eCommerce. During the festival, SSMF's viewers will have special opportunities to purchase official apparel and collectible merchandise from the music festival and from the featured bands and artists as the acts perform inside the video stream. Right now, fans can visit the site to view previous clips and promotions for this year's event plus buy different levels of SSMF tickets – all inside the video.
"The opportunity for Cinsay to be part of this festival is significant to our technology and we continue to be very excited about the growth of this entertainment trend and the opportunities developing inside the music industry. After the success of this year's Mick Fleetwood Blues Band and Under the Sun concerts, we are seeing the audience growth, fan engagement and conversion for online sales continue to increase," said Christian Briggs, founder and CEO of Cinsay.
During the 20+ hours of interviews, behind the scenes and live concert, fans can also share the HD video and embed it on their own Facebook feed and tumblr pages. The shared video will also carry the merchandise and links enabling others to have the ability to instantly purchase exclusive merchandise – all inside the video and without having to 'link out' or leave the virtual concert experience.
"The events we host and stream continue to become larger - packed with more music, and more exclusive content. SureToneLive.com is fast becoming the go-to destination for fans to enjoy unique and exciting live music experiences. For the artists, it is the ultimate distribution channel to fully connect with their community, expand their brand globally, as well to fully monetize their music and merchandise with real social-media fan interaction", said Jordan Schur, Co-Founder of Suretone Entertainment.
"The Sunset Strip Music Festival is one of the biggest events in music this fall, and Suretone Live is proud to bring this new opportunity for music fans all over the world to catch their favorite bands live, as well as be able to share the experience on social media, which is simply amazing," said Carl Stubner Co-Founder of Suretone Live. "STL is leading the revolution of how music is distributed, monetized and consumed worldwide", he added.
Anyone can view the promo video, purchase tickets and merchandise to the festival now at http://www.SureToneLive.com/ssmf. News about additional artists and schedules can be found on the SureToneLive site and upcoming press releases as well as following the hash tag #SSMF.
Earlier this year, Cinsay and Suretone Entertainment announced the formation of SuretoneLive.com and the response from the partnership continues to be incredible as labels, entertainment companies, artists, fans and advertisers within the music industry seek to monetize their brands. Also, Cinsay's subsidiary, Cinsay On Demand, creates quality branded apparel and merchandise for Suretone Entertainment and SuretoneLive.com and fulfills individual orders 'on demand' while handling the entire logistics of inventory, pick, pack, shipping and handling.
Details of SureToneLive.com Sunset Music Festival:
What: Sunset Strip Music Festival (SSMF)
When: Saturday and Sunday, September 20th & 21st
Where: Sunset Strip, The Roxy, The Whisky a Go-Go and live Pre-Show starting September 20th at 12noon pm PST at SureToneLive.com
Hashtags: #SureToneLive #SSMF
Cinsay websites and sites powered by Cinsay include:
MyCinsay.com
AndrettiTV.com
ShopAndretti.com
ShopMarioA.com
RisiTV.com
ShopRisi.com
SuretoneLive.com
ShopSuretonelive.com
Media Contact:
David Burrows - 972-616-6400