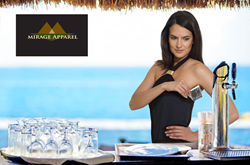 The Mirage swim suit is one of the most comfortable I have ever owned. It seems to mold to your body. It is not only beautiful but also very practical because of the pocket which allows me to safely carry money, credit card or key.
Keswick, Virginia (PRWEB) September 16, 2014
Mirage Apparel announces the launch of a revolutionary idea in swimwear. Mirage's waterproof pockets allow women to carry their valuables with them. On the beach, in the water or by the pool, valuables are protected from water damage up to 200 feet underwater.
Every Mirage one piece swimsuit, bikini top and tankini top has two pockets, one under each arm. Each of these swimsuits comes with two waterproof seal-able bags that fit securely in these two padded, cleverly hidden, pockets.
Touch screens can still be operated within the removable, clear waterproof wallet. It is even possible to take a photo with a phone while it is in the Secret Pocket waterproof bag!
Formed in 2010 by two world travelers, Mirage proves that utility chic has arrived at last. Whether traveling abroad or staying close to home, Mirage Apparel garments will protect the technology and valuables held within the waterproof secret pockets.
Mirage's Secret Pocket Swimwear gives women everywhere the opportunity to have elegant yet practical fine quality garments.