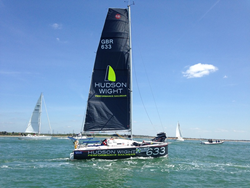 Essex, England (PRWEB UK) 2 September 2014
Sta-Lok is pleased to announce their sponsorship of offshore solo sailor Lizzy Foreman, who has just successfully completed the second leg of the Les Sables – Azores – Les Sables race. Sta-Lok is also providing rigging for Lizzy in the 2015 Mini Transat, after she successfully qualified back in June.
The Les Sables – Azores – Les Sables race saw a field of sailors travelling from Les Sables in France to Horta in the Azores, and back again. The competing sailors have faced many ordeals along the way, including Hurricane Bertha, which has resulted in several damaged boats. Lizzy has used this race to develop her skills in offshore short-hand sailing, whilst learning to overcome adverse conditions, alongside the trials of being alone at sea for long periods of time.
Sta-Lok met Lizzy at the London Boat Show in January 2014, and was impressed with her background, goals, and drive. Sta-Lok is keen to support upcoming sailing talent, and was therefore delighted to sponsor Lizzy, and supply her with essential components to help her reach her goals. Sta-Lok has provided the standing rigging for Lizzy's yacht, including both the wire and the fittings, which were manufactured in their UK factory.
Lizzy Foreman uses a Pogo 2, a form of Mini 6.50 sailing yacht, which is nearly half as wide as it is long. This design is capable of sailing as fast at 25 knots, and so having Sta-Lok rigging on board will ensure that Lizzy's rig is in top working order with optimal rigging strength and weight, allowing safe high-speed sailing.
Having sailed since she was just 3 years old, Lizzy is now 24 and beginning her own solo offshore racing campaign. In 2011, Lizzy was the only woman nominated for the Artemis Offshore Academy, and has since trained in the Figaro and Mini 6.50 classes, widely renowned as the best starting point for a career in ocean racing.
Lizzy now has her sights firmly set on competing in the 2015 Mini Transat. She has successfully completed her qualification process for the race by completing a 1,000 nautical mile solo passage and a combined 1,000 nautical mile of Classe Mini races.
The 2015 Mini Transat begins in October 2015 in France with a stopover in Lanzarote in the Canary Islands, before finishing up in Guadeloupe, situated in the Caribbean. The race is considered a tough and gruelling event, and as such, is not necessarily considered a race for the win, with sailors being mutually supportive during training and preparations.
Sta-Lok wishes Lizzy Foreman all the best in her preparation, and is thrilled to help her on her way to achieving her life-long goals, and progress her sailing career. For those looking for more information on Lizzy's progress, Sta-Lok will post updates of her progress over on their blog, which can be found here: http://www.stalok.com/blog/
About Sta-Lok Terminals Limited: Sta-Lok is a world-renowned manufacturer of high quality fittings for stainless steel wire rope and rod systems, with over 40 years of experience. Sta-Lok is proud of their product innovation, and UK-based in-house manufacturing for marine and architectural industries. Find out more about their products over at http://www.stalok.com/