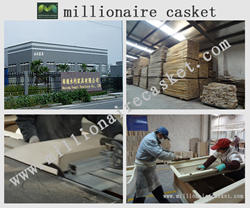 (PRWEB) August 31, 2014
MillionaireCasket.com, the distinguished casket manufacturer and retailer, has recently announced its new selection of pecan caskets. The new pecan caskets are available in a variety of sizes, ranging from extra large caskets to child coffins. MillionaireCasket.com is a reliable supplier in the global market; it provides great caskets for its current and prospective clients.
To expand its global market share, the company has decided to launch a promotion for these products. At present, all of them are offered at low prices, from 5 to 30 percent off. The special offer will last from today until October 30. 2014. MillionaireCasket.com has extensive experience in making various kinds of caskets. Its products include solid poplar wood caskets, solid fir wood caskets, sapphire gold metal caskets, heaven pink metal caskets, casket lowering devices, embalming tables and more.
As a leading supplier in the current market, MillionaireCasket.com promises that all its caskets are made from high quality materials. Besides caskets, the company also sells embalming tables, urns, church trucks, stretchers, keepsakes, church furniture and many other funeral products.
"We are trying our best to meet the diverse requirements of our different clients. We hope to be an industry leader in the international market. In the coming months, we will make more top quality caskets for our old and new clients," the company's chief executive officer says.
About MillionaireCasket.com
MillionaireCasket.com is a leading casket company that focuses on the business of caskets. This company offers an exquisitely crafted line of all kinds of metal caskets, solid wood caskets, veneer caskets, cremation caskets, rental caskets, orthodox caskets, infant or over-sized caskets and European style coffins. The standard quality control policy is strictly applied here, and a third party quality assurance is also available.
More information can be found at http://www.millionairecasket.com/76-pecan-caskets.